Love lies
Love lies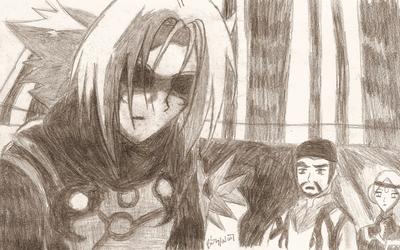 Description
I was lost, then I found you
Never thought it would be this way
I showed you my heart, left it unguarded
Like a thief in the night you stole it away

Now you're gone, the pain goes on and on
I still hear you whispering to me through the shadows of the night

Love lies, you're just a victim of the headlines
You're running on into a cold night
You're just a number of the love lies

All alone you call it survival
He lost at love to a stranger's lines
Walking the streets, searching with vengeance
For a face that he dreams of night after night

Time goes on, all signs of life stolen, simple dreams were all broken
Best of times become desperation but how many tears must you cry to survive

They met late one night in the city
Both men knew only one would stay
Scratched a picture of a heart on a bullet
And took his life away

(didnt know where to put this so I put it here oo)
Zomg my first Haseo pic! lskjfskjfs O_O
I gotta say im very proud of dis piccie even though it irked me a few times with his nose and the backround. But other then that I think I did a damn good job =D
But yeah, anyways I was inspired to draw this pic when listening to Bon Jovi's "Love Lies" and the first thing that popped into my head was Haseo and how he went downhill after Shino became a lost one. Not to mention the lyrics go oh so well with the pic ne? =3
View, comment, and enjoy!
General Info
| | | | |
| --- | --- | --- | --- |
| Ratings | | Comments | 14 |
| Category | Games » - All Titles » .hack series | Media | Graphite pencil |
| Date Submitted | | Time Taken | 2-3 hrs |
| Views | 1246 | Reference | Screenshot |
| Favorites... | 2 | Keywords | Haseo |
| Vote Score | 2 | License | Berne Convention |