Hao/Zeke fanservice! >3
Hao/Zeke fanservice! >3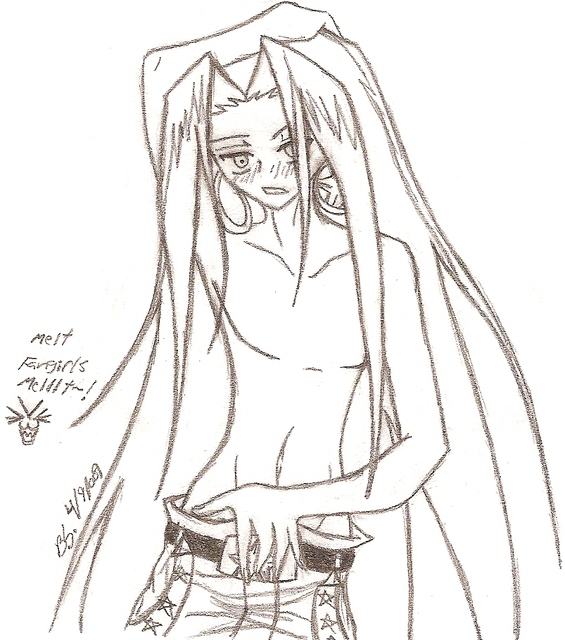 Description
Bwahahahahaha! Behold the smexyness of Hao/Zeke Asakura! >D Melt fangirls melt I sayyyy!!!
Ahehehe anyway -sweatdrop- I gotta stop eating sugar xD
But yeah, reason behind this creation is due to there being a low amount of Zeke piccies on FAC as of lately so I and mah friend are deciding to pull this smexy pyro back into the spotlight! n-n
Also it was due to her one part in her fanfic "When land meets sky" describing a picture Sora drew of Zeke that inspired this hott lil number to spill from my pencil. I MIGHT have her send the description my way so I can show you how close I got to the pic. The choice ish yours. And also I cant give her alll the credit considering it just soo happens I had a Bakura picture that was VERY close to the description, except he had a necklace in his mouth and he was holding a card in his index and middle fingers. But since I suck at anatomy alone I decided to look at Bakura's body on my itty bitty black and white print out of him that I had ages ago when my printer was on the edge of death. (My OLD printer xD) It may have sucked with color in the pic but ah i didnt care since I aint coloring this piccie, maybe someone else can? Lulu? -shot!- xD
(Here's proof I didnt trace eet! found the original shot on PB xP :
http://media.photobucket.com/image/bakura/YamiChevonne/Bakura%20And%20Marik/SexyBakura.jpg
http://i78.photobucket.com/albums/j118/YamiChevonne/Bakura%20And%20Marik/SexyBakura.jpg
See the dif? Yeah I thought as much so SHADDUP DISSERS! XP)
The hand could have been better but oh wellz xP However I LUFF how his sexy belly button came out! -squealz- x3 I wanna poke eet!
But yeahz if ya see this Mitsuko comment dammit! Or im taking Lelouch away from ya xD -shot!-
View, comment, and enjoy duckies! (Plenty more Zeke fanservice where this came from >3)
General Info
Comments
10
Media
Graphite pencil
Time Taken
4 hrs
Reference
Bakura manga shot