Twilight Neo-Shadow Reference
Twilight Neo-Shadow Reference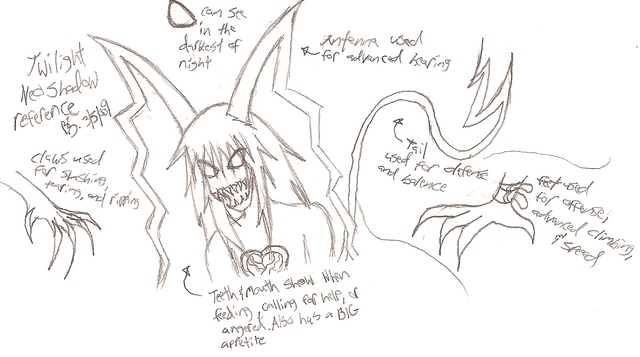 Description
Nothing big, just the reference of the Twilight Neo-shadows I was promising. It pretty much explains the functions of the Twilight Neo-Shadow's bodies etc.

Here is what it reads if you cant read my awful writing xP
(Clockwise starting at hand picture)

Hands: Claws used for slashing, tearing, and ripping.
Eyes: Eyes can see in the darkest night.
Antenna: Antennas used for advanced hearing.
Tail: Tail used for defense and balance.
Foot: Feet used for offense, advanced climbing, and speed.
Mouth: Teeth & mouth show when feeding, calling for help, or angered. Also has a BIG appetite.

Hope this clears up any of your questions about my lil darlings. If you need a good reference come on over here til I bring out a fully colored ref in the future. n_n

View, comment, and enjoyz! <3333

Twilight Neo-Shadows are (c)to SweetxinsanityxSarah, do not take, copy, or draw them without my permission first. If I grant you permission please remember to give me credit for their creation!