Beauty of the Beast (Happeh b.day Vinny!)
Beauty of the Beast (Happeh b.day Vinny!)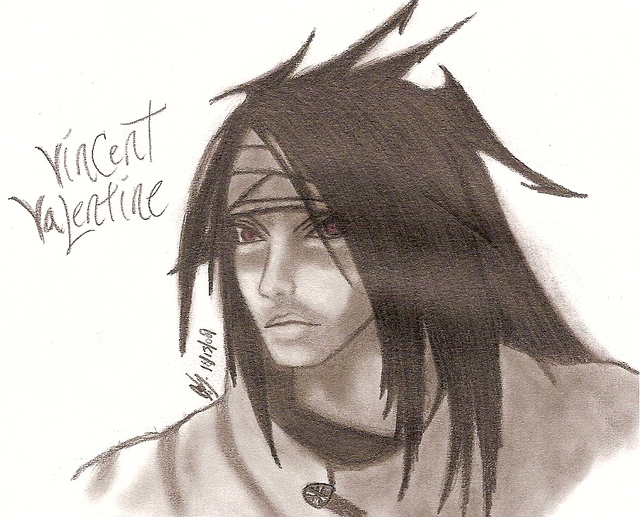 Description
Gotta say, BEST VINCENT EVAH! (And its the only first time I drew him!! n_n)
Considering I am in a Vincent fangirl phase and his birthday was coming up, I drew this a few days
earlier
cause I knew I was going to either procrastonate or take forever on the details (and I did which is a good thing I started early xD) so I drew him out on the first day which took 7 hrs and 35 min, shaded him in and lined out his hair, then I spent the next few days touching up parts here and there on him, erasing and correcting parts that irked me etc. Then I finally added the finishing touch and colored in his eyes red.(Did it with a red pencil cause a marker would have been ten times worse)and voila!
I just adore how this turned out, I really thought it would turn out sucky but it didnt kekeke. The reason I chose THIS particular screenshot was because: 1.) I didnt want to do the scene of him with the fire behind him on the front cover of the game because that is SOOO overdrawn its not funny. (Dont get me wrong I love the drawings though! nn) and 2.) It looks like he is smiling yet not smiling in the shot, kinda like a Mona Lisa depiction. (Which I think I managed to capture dont you?)
http://s43.photobucket.com/albums/e351/ShadowsChildKataki2006/Final%20Fantasy/?action=view&curren...
(Ref I used!)
Welll anywhos happy 60 somethin b.day vinneh (Yes he's in his 60s) we luff yous! -shot to death by cerberus!- ack..someone doesnt like his age mentioned X___x
Anyways view, comment, and enjoyz! <3333