Harlequin from Hell
Harlequin from Hell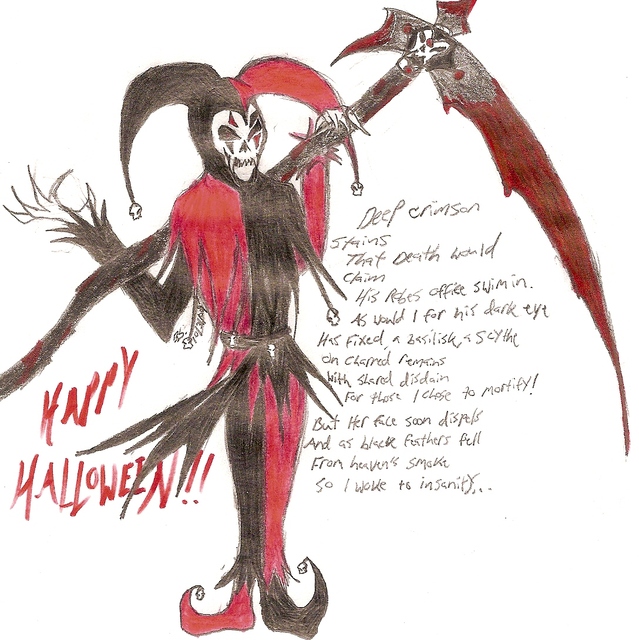 Description
This is Halloween, everybody make a scene
Trick or Treat till the neighbors gonna die of fright
It's our town, everybody scream!
In this town of Halloween

I am the clown with the tear-away face
Here in a flash, then gone without a trace.

I am the "who" when you call "Who's there?"
I am the wind blowing through your hair.

Tender lumplings everywhere,
Life's no fine without a good scare!

Welp I said I wanted to and I did. That is; drew a piccie of my newest OC. He represents the side of me that loves cruel humor and scaring the crap out of the innocent and getting a high from it. Also he torments those whom cant take a lil joke with his famous quote "Why so serious?!" (Yes it's the joker's I know shush! xP)

The best part of this is that I HAVE this costume! Even the scythe baby wewT! I won the Elks annual Halloween Parade for scariest costume with this baby and I scare everyone I run into in it, well almost everyone... (My one friend thought I was sexy O__o xD!)

But yeahhhh anywhos, I'm very proud how the piccie turned out, especially the colors though I might just make my still un-named jester's eyes yellow instead of red. He will be popping up in future rps dearies so dont fret. Also, he will appear as the 'twisted inner child' of Sasuke. Oh and did I mention this fella's voice is high pitched like that Espada's voice in last weeks epi of Bleach? (One that Rukia killed) But his voice lowers when he gets pissy, which is a dangerous sign and hints at RUNNING. Oh and by the way, still need a good solid name for him so yeah comments are apperciated. (Name has to either sound creepy or mean something that goes with him such as "Laughing" "Insane" "Evil Laughter" or "Creepy")

View, comment and enjoys! <3333

Oh and HAPPY HALLOWEEN LUVS!