Dreaming of a Dark Christmas
Dreaming of a Dark Christmas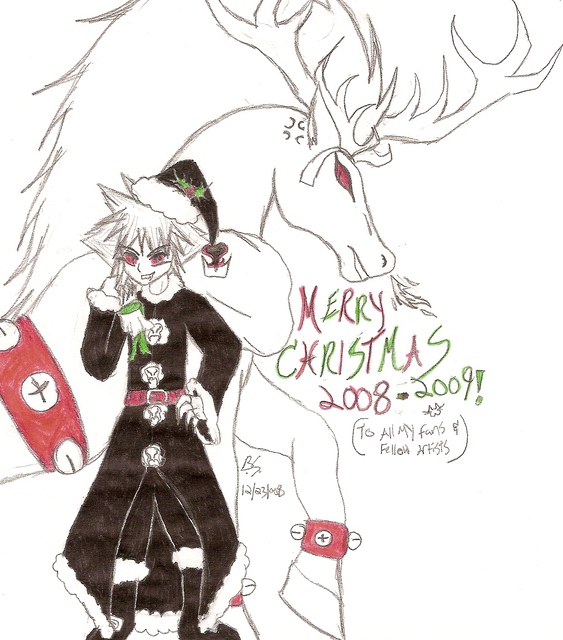 Description
Welp since im not in a festive enough mood to make a X-mas pic for this year, I opted for putting up the one I did last year for this year instead. Not to rant or anything but yeah grandparents ruined X-mas for ALL of the family turning into complete utter scrouges. Tis okie though the family is pissed off at the two bastards and arent letting them come to the dinner my aunt is making (They are inviting my mom and I instead wewT!). Hahaha karma is quite the dog to those two old farts. Especially my grandma. (swine flu anyone?)
But anyways, drama aside I thought that touching this pic up abit would be a good idea, so I inked out Evil Sora's coat and hat and colored most of the pic either red or green, very festive colors in my opinion. (Pink, purple and blue colors can kiss my @$$! That's for gay trees! xD)
And I why Entei as the reindeer you all ask? Well cause he is my top fav animal demon in Inuyasha besides Kirara; plus I thought it would be fun to humilate him alil. (He doesnt seem to agree though it seems :3) I was gonna add a red nose but nah, didnt look right.
Anywhos hope you all have a fun x-mas dearies and dont worry, I will make it up to you all next year with a jawsome piccie mmkies? (That is if my grandparents or any other part of my family doesnt ruin my mood. x3x)
View, comment, and enjoyz!
And
MERRY
CHRISTMAS
MORTALS
PWAHAHAHA!![/b]
General Info
Comments
4
Media
Other drawing
Time Taken
4 hrs
Reference
Entei and Santa Sora screenshots