The Twins of Yin and Yang
The Twins of Yin and Yang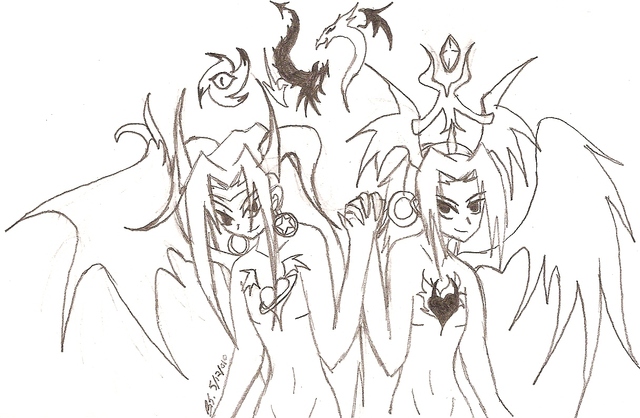 Description
"Good and Evil are in term very different;
However, they are but two sides of the same coin.
Without one, the other cannot exist; and so
The eternal chains that bind them in their everlasting dance also hold together
the souls of all and create what is known as
Balance...."
Quote by me

Just a b.day piccie dedicated to the perfect personifacations of good and evil; the Asakura twins Yoh and Hao/Zeke! nn
I decided to represent them as the deities of good and evil cause well; that's how they are if you watched the show and read the manga xP
The reason the one that has the opposite symbol in their heart is because; they are like yin yang; they both have good and evil in them even though they dont show it. Zeke because he only wishes for a better more eviromental friendly world, and Yoh because he DOES agree with Zeke on humans and how they are ruining the earth (He says so to Zeke in the manga when he says humans are like cancer cells who destroy themselves when they kill the hosts they are in.), however Yoh only wishes for a more peaceful way to solve the troubles of the world without having to sacrifice the humans. So yeah if you want to look for the perfect twins of yin and yang, look no further! x3

Anywhos, happy b.day Zeze and Yoh-yo!

And view, comment, and enjoys!
General Info
Comments
2
Media
Graphite pencil
Time Taken
1 hour
Reference
Sakura's hair