Legend of Sleepy Hollow
Legend of Sleepy Hollow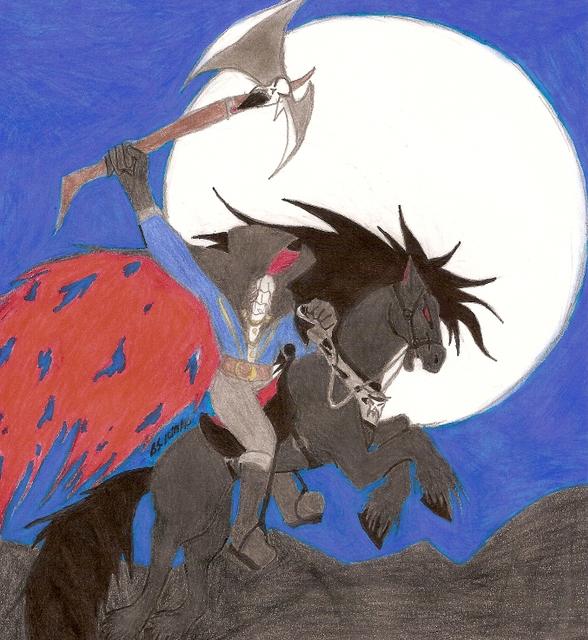 Description
"Say it once, say it twice
Take a chance and roll the dice,
Ride with the moon in the dead of night,
Everybody scream, everybody scream
In our town of Halloween...."
~From Nightmare before Christmas
Another entry into the halloween contest that is being held~
"When I think of Halloween, I picture the Headless Horseman of Sleepy Hollow."
Come on, you cannot deny that at least ONCE you think of this legend whenever this holiday rolls around. Besides NMBC this is by far my favorite holiday story. I remember growing up watching all sorts of depictions of this tale, stretching from an eerie 3D short movie, a timid cartoon for the youngsters of a witch controlling the headless hoseman, all the way up to Tim Burton's version of the ruthless Heshin beheading the towns folk and Icabod fainting every chance that arose. xD
Have to say im very proud of the horse, could have done better on the horseman though but ah, still damn good for drawing someone without a head IMO. Also an eerie realization; after I finished coloring this I watched a special about ghosts on the travel channel (Most Terrifying places in america) and one of the people noted that the heshins, or at least the ghost heshin he saw wore
blue
in his uniform. And the creepy part was, I didnt know about that until right up to when the guy stated that! Talk about spooky neh?
Well I hopes this gets a placing, worked my @$$ off on that damn backround with the coloring job. X_x
View and comment, less you want your heads lopped off duckies! >3
Oh and
HAPPY HALLOWEEN~!