Cursed waters of Ronkonkoma
Cursed waters of Ronkonkoma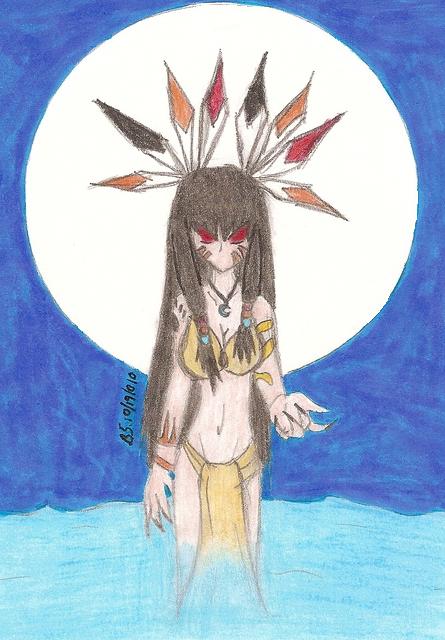 Description
The last entry into the Halloween contest.
"When I think of Halloween, I picture ghosts roaming through the night."
And what makes this picture soo spooky? Well it's based on the ghost and curse of an actual area called Lake Ronkonkoma. It is a tale seeped in blood and tradgedy that started out with harmless boundry blurring love.
You see there was a native american princess named Ronkonkoma, she fell in love with a white settler. They would elope to a private location; the lakeside. She would also use said lake to send messages to her beloved. However the cheif found out about his daughter's love interest and forbid her to see him. Seven years passed by before princess Ronkonkoma couldnt stand the lonliness anymore. It was then that she took her life withen the waters, and with her dying breath she cursed the lake. She claimed she would return each year to take the life of any man who dared swim withen the murkey waters. And that vow she kept, for in the past 130 years, over 160 souls have been lost to lake Ronkonkoma...only ONE being a female. Not only that, but there has been eyewitness accounts of people seeing a native amercian female standing withen the parts of the lake that are said to be over forty feet deep or lower.
This ghostly tale was soo spooky, it got number one in the top 13 most terrifying places in america. So yeah it made sense to put this up for Halloween dont you think so?
But anyways, view and comment; and tred cautiously if you live near the place mentioned. Especially if you happen to be a male, less you want Princess Ronkonkoma dragging you to your watery grave. x3
Proof im not lying:
http://www.youtube.com/watch?v=EwKeNlcEDxU&feature=related
If you wish to see the first part, check this link instead. Might have to fast forward abit.
http://www.youtube.com/watch?v=h8myVXIuh1k&feature=related
Happy Halloween~!
General Info
Comments
7
Media
Other drawing
Time Taken
4 hours+ coloring
Reference
Memory