Never forget (9/11 tribute)
Never forget (9/11 tribute)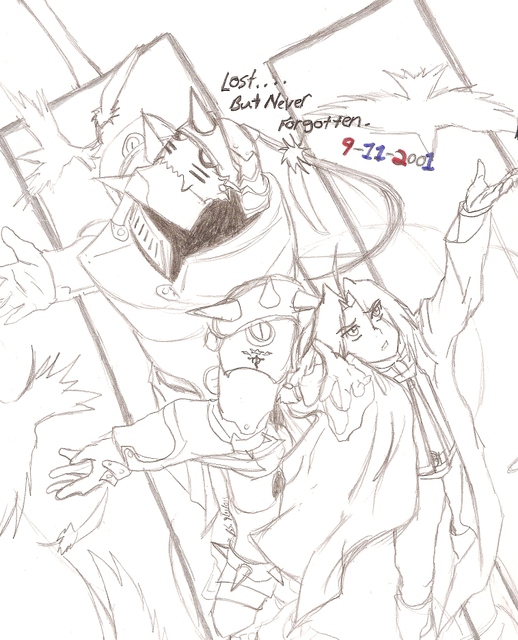 Description
"Hope is the pillar that holds up the
world...."
Quote by Pliny
"If everyone cared, and nobody cried
If everyone loved, and nobody lied.
If everyone shared, and swallowed their pride,
Then we'd see the day...that nobody died.
And I'm singing
Amen I, I'm alive
Amen I, I'm alive...."
From "If everyone cared" by Nickelback.
http://www.youtube.com/watch?v=wqD1E8nw1AI
Since the tenth anniversary of Sept 11th was coming up, I decided to step up my pariotism and draw a picture to commemorate this day in which we were all bonded as one country. It was abit hard at first to think up WHAT to draw, considering someone already beat me to the punch at drawing Osama burning in hell (Epic peice btw). However when I noticed an old wallpaper in my gallary of Ed and Al standing in a reflecting pool reaching up towards a flock of doves...I knew then I had my muse.
It was then that I re-drew the scene and added the towers into the reflection of the pool. However let's get this straight...I did
NOT
trace this! I will even toss up the original to prove my point.
http://s827.photobucket.com/albums/zz193/SweetInsanityOriginals/Full%20Metal%20Alchemist/?action=...
I have to admit, Al came out much quicker than Ed did this time around...probly cause Al is a bunch of large simple shapes whereas Ed is a mass of complex folds and more detail is needed to his face and body etc. Plus their hands came out splendid. Plus I got to expirament with more complex angles and what not which pleased me greatly that I managed to pull it off. (As in you feel you are getting a 'bird's eye view' of them angle)
Also this WAS submitted on the 11th, but we all know how pending can be a pain in the @$$ neh? xP
And let us not forget the lives that were lost on this darkest of days that pulled us together as one country and showed we are much stronger than others think.
In rememberance of September 11th 2001.
We will never forget those who risked
their lives to preserve America's
enduring freedom.
General Info
Comments
15
Media
Graphite pencil
Time Taken
2 to 3 hours
Reference
FMA wallpaper