Look up (Contest)
Look up (Contest)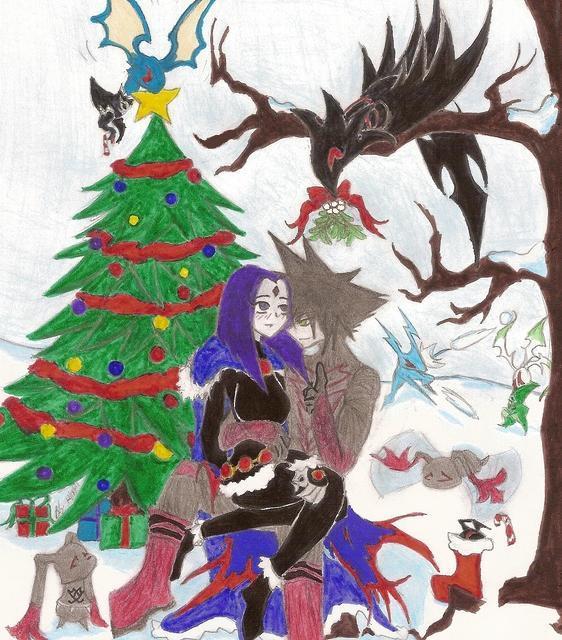 Description
This lil number was the reason I was absent a few days, KILLED me coloring and touching up on it. X____x
I do hope it gets high in the points cause I worked my @$$ off on it! And I crammed every theme possible into it with the help of da cute yet menacing unversed.
Besides ol Vanny being smooth with Raven with the help of his Archraven holding a mistletoe for him; a Hareraiser is attempting to make a snow angel, an Axe Flapper is decorating a nearby christmas tree, a Shoegazer is sporting a christmas stocking over his boot, and a Flood and Mandrake are having a snowball fight. I dunno why I added an extra Hareraiser though, perhaps it's cause he's enjoying the cute scene infront of him. Or maybe he's waiting for Vannie to open the x-mas presents for him under the tree. xD
And why Vanitas and Raven you ask as a couple? Cause they fit very well, cause opposites attract and all that nonsense foos!
But anywhos im entering this into the official FAC x-mas contest so here's hoping I at least place! X3x
And FYI the backround is NOT blank, it's a very light blue cause grey would have looked horrid, so yeah' its a snow sky in the backround so nyah! xP
Plus Raven and Vanitas are sitting on a stump if you cant tell. Yes I know I suck at stumps shush!
So
Merry
Christmas
from Vanitas, Raven, and all the adorable and deadly Unverse to all my friends and fans~!
(Viewing and commenting ish luff, so dont be a Scrouge and post away!)
General Info
| | | | |
| --- | --- | --- | --- |
| Ratings | | Comments | 11 |
| Category | Games » - by Publisher » Square-Enix » Kingdom Hearts series | Media | Other drawing |
| Date Submitted | | Time Taken | 3 hrs drawing, 4 1/2 coloring |
| Views | 812 | Reference | Unverse screens for color, mistletoe pics |
| Favorites... | 4 | Keywords | Raven, Vanitas, Teen, Titans, Kingdom, Hearts, Birth, By, Sleep, KH, BBS |
| Vote Score | 4 | License | Berne Convention |