Erebus wraith ref
Erebus wraith ref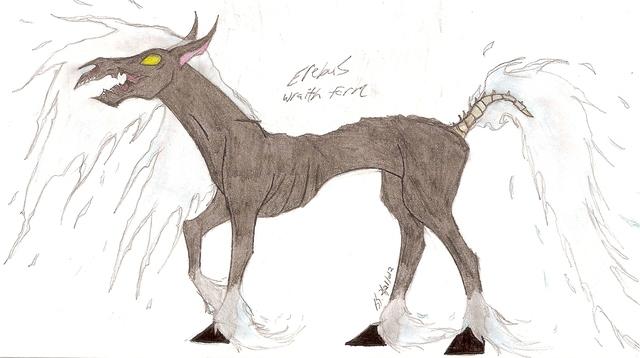 Description
Since I put Erebus's normal form up, it seemed fitting to toss up his wraith form as well. I needed to considering a few people have a habit of screwing up on him; that or they cant rely on my 'family woes' pic to help them through.
(It wasent a fair pic to use anyway, since you can barely see his whole form in it. xP)
He still retains most of his normal form's appearence, except for the fact he loses ALOT of weight, his mane and tail, and fetlock fluff become a smokey substance; and his face becomes rather skeletal in nature. He was inspired alittle bit from a demonic fanged horse sketch on DA, and from the demonish horses of TLOTR series that the ring wraiths rode on..thus the name 'wraith' form. xP
http://s827.photobucket.com/albums/zz193/SweetInsanityOriginals/Demons/?action=view&current=Demon...
(This is the horse that inspired the new look. Of course Erebus isnt an exact copy face wise no. He lacks fangs and wrinkles as you can see. xP)
But anywhos besides turning horrifying in nature, his Nightmare side lives true to it's name by weilding fire, darkness, and smoke added with the effect of blue to his flame based attacks considering his previous life of being an Asperi, aka 'wind stallion'. He can also weild ice, and wind ablities; but it's a touch weaker in this form. nn
So yeah view and comment, or Erebus shall feast on thine souls! >O