Captain Mii Captain (AT)
Captain Mii Captain (AT)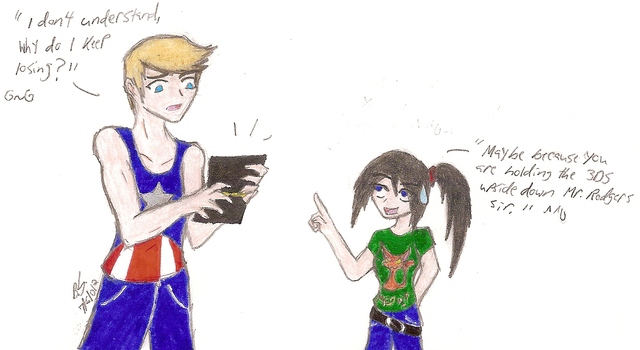 Description
Couldnt think of a good title, so behold my lame play on words hurr hurrr. xP

Yush, another AT with the mighty tofu! (I cant stop art trading with her, she's fantastic! x3) this third time being of another shot of her oc Mii once more interacting with Steve Rodgers as she requested. This time though, she's teaching him how to use her 3DS from the previous picture of their encounter. And well...he may be good with a sheild; but he'd be in trouble when it came to technology let's just say. ;3

Anywhos hope you enjoy the stylish new outfits I put em in tofu (Especially ol Steve's muscle shirt hehe. x3) cause I sure enjoyed making em! Notice on Mii's shirt, is the debut of mah kitten Les Gold..the cute lil face of furry evil! =o


But anyway, view and comment, FOR IT WILL SAVE YOU FROM THE MOOSE OF DOOMZ!
General Info
Comments
4
Media
Other drawing
Time Taken
2 hrs + Coloring
Reference
Mii and Capt refs