Rotten Toy
Rotten Toy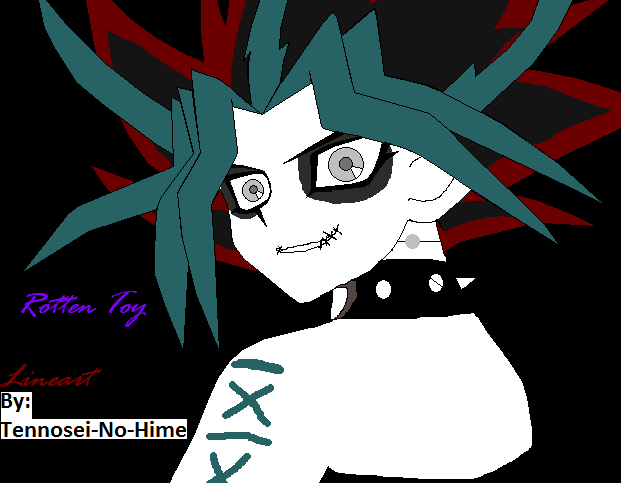 Description
Just a lil something to let you guys know I have not forgotten about ya. ;3
This fella is my precious new OC dubbed "Rotten Toy" <3
SEE HIM IN ACTION HERE! <3
https://www.youtube.com/watch?v=TOWKXAYXzw4
Information about him is as follows:
Rotten toy was created from some of Atem's DNA by Toy Maker of Lords of Shadow 2 and mirror of fate. He devours the souls of women to sustain himself. He also gathers souls for his master Toy maker to help him in his nefarious deeds for their lord Dracula.
He has a high distaste for most of the male populace, seeing them as 'pig headed' and 'moronic'. And to such low IQed males, he speaks full french to, knowing they cannot speak it back and thus are confused by his dictations. There are some males he respects. Very smart ones like Seto, Mahado, Bakura, Alucard, amongst a few to name. He will speak english to them and respect them to a certain degree. Though it goes without saying that he respects his mentors Toy Maker and Dracula with a very high view of them.
Women he adores with a dark and sinister lust. And although it is true he is a perfect gentleman to them and treats each and every one like a goddess...he is simply 'playing with his food'. For once he strikes, he tosses them aside like an empty Chinese takeout box once he's done with the victimized woman. And no he is not intimate with any of his female prey...it simply takes a kiss to win them over to his charm and then drain their souls with another kiss..this one being fatal of course.
Think of the poem "Spider and the fly" when it comes to rotten toy's ways with women.
With his outlook on humanity..he is disgusted by it. He sees it as flawed and vile. Whereas he looks upon immortals with a higher regard, mostly those who have eternal youth and beauty. He also looks upon dolls like himself as perfected forms of humanity and how humans SHOULD be rather than what they are now.
And he also treats his victims to a play of sorts that is also abit of a shadow game. (Season 0 shadow games) If they can escape his game of choice, they can leave Toy Maker's lair unharmed...but if they lose..their soul goes to the Toy Maker to put in another doll or contraption to use at his leisure. If it's a female though that has peeked his interest, he will most likely take them for himself to eat. Males arent as lucky as you should already know tho.
When it comes to his tastes in the finer things, like his master Toy Maker; he has a flair for the dramatic, loves the theater, and adores french things, french music and the circus being his favorite things of this culture.
If you read all this you get a cookie! xP
But yes do enjoy, and credit goes to original lineartist! -points to picture-
General Info
Comments
4
Media
MS Paint
Time Taken
40 minutes
Reference