Dugan
Dugan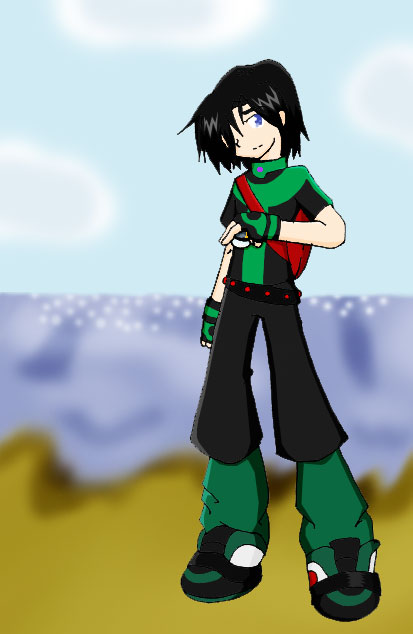 Description
dugan is my pokemon oc >>...me and my friend jez were rping she decided to give herself a name so then i was like eh i always use taki so then it went to dugan. and the rp...well it still leads on lol for 2 days straight so far xD lol... its actually quite interesting...i wanna make it as a new pokemon journey..eh..and im tired of ash always coming out as the hero of the plot so yea lol xD lmao. i did a pic of my oc at a beach. the background is really...bleh looking but i really hope u all enjoy it. if u notice the purple dot on his shirt...thats actually his masterball...holding...i aint ruining the surprise >>' jez should know what it is lol. and if she is really lucky she will find out whos in the "ultra ball" as well XD lol. unless u all wanna give it a try lol. anyways his main pokemon that he started with was torchic. >> but in the rp its already a blaziken so yea. on and on.. now that u all know who he looks like heres his info X3...
Name: Dugan
age: 15
eyes: blue
main pokemon: torchic
party: blaziken, Latias, groudon, charizard, flareon, and ivysaur
lived place: Lilycove city
first caught pokemon: evee aka flareon
info: dugan is a 15 year old kid who had always wanted to be a pokemon trainer and collect as many pokemon as possible. he doesnt think of pokemon as tools for battle but pokemon as friends/ family members. he dreams won day to help and save all kinds of pokemon as he can.
General Info
Comments
8
Media
Digital drawing or painting
Time Taken
9 hours
Reference
none...i think