Transformers Animated- Crossfire
Transformers Animated- Crossfire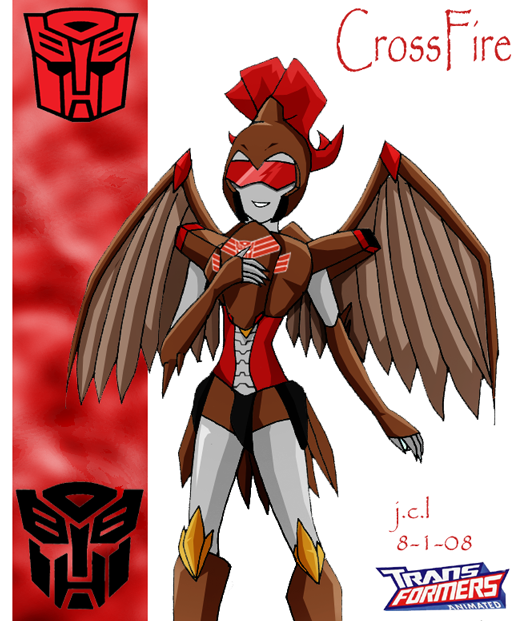 Description
*Name: CrossFire
*****
*Alliance: Autobot
*****
*Function: Autobot Elite Guard Intelligence Officer
*****
*Motto: Through thick and thin ill swoop for the strike
*****
*Cybertronian Alt Mode: Flying Jet
*****
*Earth Alt Mode: Transmetal Falcon
*****
*Location: likes to hang around with the Dinobots but tends to fly about on the city to find any decepticon activity and despose of them like the scrap metals they are
*****
*Power or Abilities: took classes at the cyber ninja academy during the elite guard institute with jazz. sneaks about in her earth mode disguise and desposes any decepticon or criminal activites in Detroit.
Sword
Gun
*****
*Bio: Took elite guard institute and successfully passed with flying colors. with her brilliant mind and grace of abilities she became an elite intelligence officer, dont underestimate her like arrce though shes trained and can fend for herself in the team. when knowledged by Ultra magnus about the all spark fragments she was ordered to go to earth and help the remaining autobots regain and protect and destroy any remaining decepticons lurking there.
General Info
Comments
0
Media
Other digital art
Time Taken
3 hours
Reference
no