Who wants some ?
Who wants some ?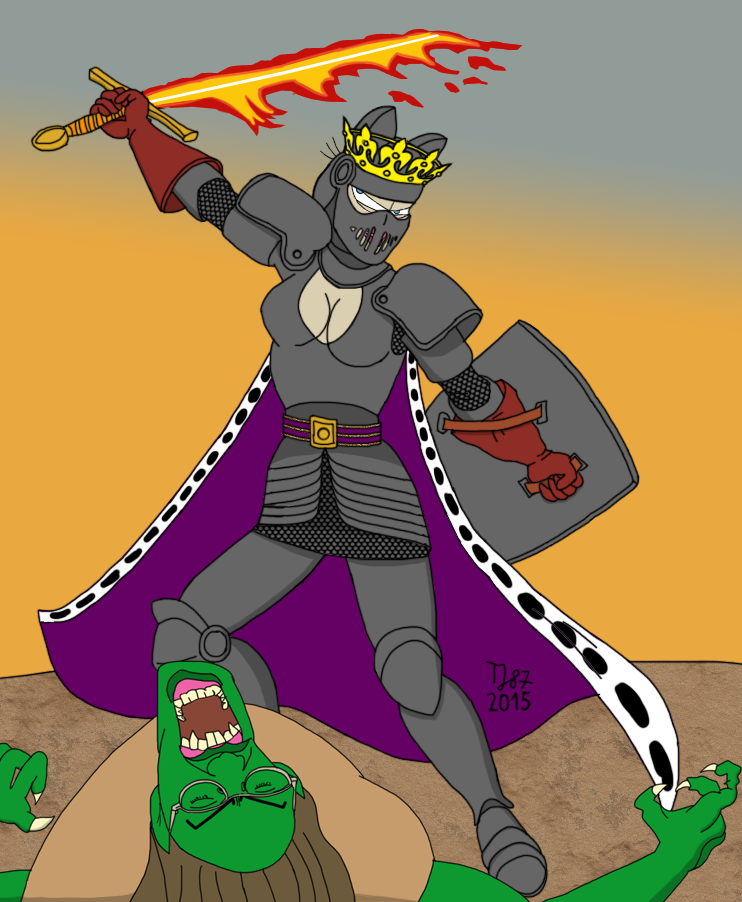 Description
Crossover between "Garfield and Friends", "Xena the Warrior Princess" and "Dungeons & Dragons: Forgotten Realms" with story I have made up for this digital painting:
----------------------------------------------------------------------------------
Long time ago there was a land inhabited by race of humanoid cats, who lived in feudal society similar to The Holy Roman Empire (962-1806 http://en.wikipedia.org/wiki/Holy_Roman_Empire ) , ruled by emperor chosen between patrimonial monarchs with king titles, who had own vassals within the nobility ladder, from the highest to the lowest:
- viceroys
- dukes
- counts
- baronets
- knights.
The Catfolk had the misfortune to live near tribes of vicious and aggressive monsters named ogres, who enjoyed harassing every non-ogre just to appease their low pleasures. Their attacks took place every year, and despite being always defeated by the feline army, the green-skinned barbarians never gave up for sure.
Once, an exceptionally fanatic and insane ogress named Dusk the Rabid One, gathered some from her tribe named Corrupted Barkers and led them against the Pussycat Keep, fortified city being home of the Pussycat House. The defenders were prepared for attack, since the ogre tribes had been trying to take over the city since the beginning of its existence ( 400 years before the described attack ). Most of the attackers were stopped by archers, before they reached the city gates, though Dusk and couple of her followers managed to break through under the rain of arrows. Hiding under large shield matched her size, the ogre leader called the Viceroy Pussycat for a duel - being feminazi herself, she enjoyed beating males just for fun.
As a gentleman, Viceroy Pussycat could not fight against woman, even if that woman was chaotic evil bloodthirsty monster, who believed that rules exist only to break them. The challenge was accepted by Viceroy's sister - Crown Princess Penelope from the Pussycat House, who was renowned warrior herself.
Penny faced her opponent on a hill behind the city. Having reached the arena, Dusk the Rabid One rushed at her opponent, hoping to crush her with bare paws with claws. The ogress did not predict the armour worn by the feline princess would easily resist her melee attacks, but the worst surprise was the +5 flaming sword Pretty Penny wielded - single blow aimed at the ogress torso caused Dusk to fall. When the ogre retinue saw their leader defeated, the monsters fled in panic and refused to come back during the following 5 years after the battle.
-------------------------------------------------------------------------------------------------------
The digital painting has to depict the scene, when Dusk the Rabid One ( green-skinned monster ) was defeated by Crown Princess Penelope of the Pussycat House ( in plate armour, wielding flaming sword ).
Penelope Pussycat belongs to PAWS Inc.
Dusk the Rabid One is not supposed to represent anyone particular, her similarity to real people is not intended.