Volodya the Volk-o-shevik
Volodya the Volk-o-shevik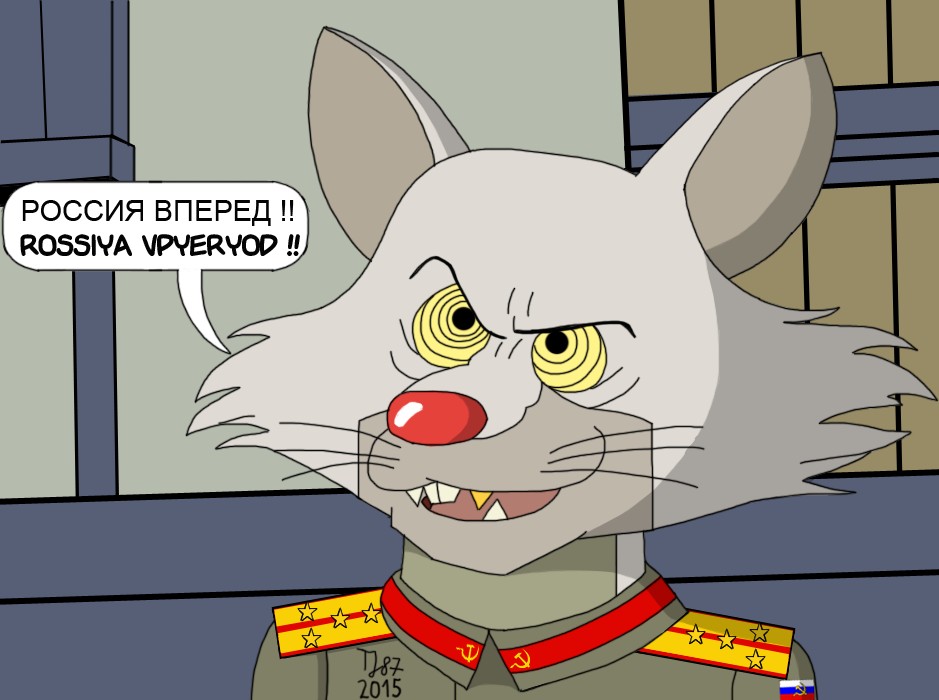 Description
The canine Soviet Army captain I have depicted above was developed from my old works drawn between 2008 and 2010 when I had dA account and drew wolves in such uniforms. Partially it was a tribute to "Nu, pogodi!" cartoon, partially because the members of CPSU did behave towards others following old Latin saying Homo homini lupus est. In other words, their behavior reminded me carnivores from Canis Lupus species that much that I found depicting them as such matching.

One of the depicted was a villain from "80 Days Around the World with Willy Fogg" named Transfer - the way he behaves towards protagonists makes him model example of leftist corrupted by Marxist lies.

In my story, somewhere between stories from movies "80 Days Around the World with Willy Fogg" and "Willy Fogg 2: Journey to the Center of the Earth", our leftist canine from London had a romance female member of Russian 19th Century socialist movement, which was never legitimated since socialists consider marriage as institution of capitalism they oppose with efforts worth better cause.

The fruit of that "international meeting" was illegitimate male wolf, half-British gray wolf, half-Russian Siberian wolf, who returned with her biological mother to Russia to take part in the October Revolution in 1917. Transfer did not make it, since he died of alcoholism somewhere around 1907. His son, named Ivan Transfyerovych Paskudnikov (1884-1943, died in combat during the Battle of Prokhorovka, last name after his mother), took part in the entire Russian Civil War 1917-22 as red infantryman, becoming infamous of the way he treated religious people and those, who lived from agriculture (he simply shot them in forehead from his gun).
Son of Major Ivan Paskudnikov, was Igor Ivanovych Paskudnikov (1923-1968), who took part in WW2, reaching the same rank his father did, only to die in Vietnam during the Tet Offensive as NVA advisor from Moscow, when he decided to face US Marines in the City of Hue in open combat. Before becoming posthumous hero of the Soviet Union, Igor left his son Vladimir "Volodya" Igoryevych Paskudnikov in Moscow (born on 5th March 1964). Volodya is that wolf in Soviet Army uniform in my picture above.

The title of drawing "Volk-o-shevik" was developed from words in Russian volk ( "wolf" ) and Bolshevik - merger between those two makes "Volkoshevik" ( wolfish Bolshevik or "wolfwere Bolshevik" ). As you can see, Volodya Paskudnikov has all the worst traits of Great-Rus imperialists, being obnoxious, rude, egoistical drunkard, who considers Russian nation as master race and every non-Russian as "subhuman". Definitely a fellow you would not like to invite for your own party.

The background is supposed to be distillery in Moscow, producing strong alcohol in great quantities. Every day there are couple of crates of alcohol missing from production and somehow nobody managed to find out, that Volodya is responsible for this theft. Pardon, not theft, but taking property of the Soviet Union for himself.
General Info
Comments
17
Media
Digital drawing or painting
Time Taken
9 hours
Reference