The Seven Yarn Scritch
The Seven Yarn Scritch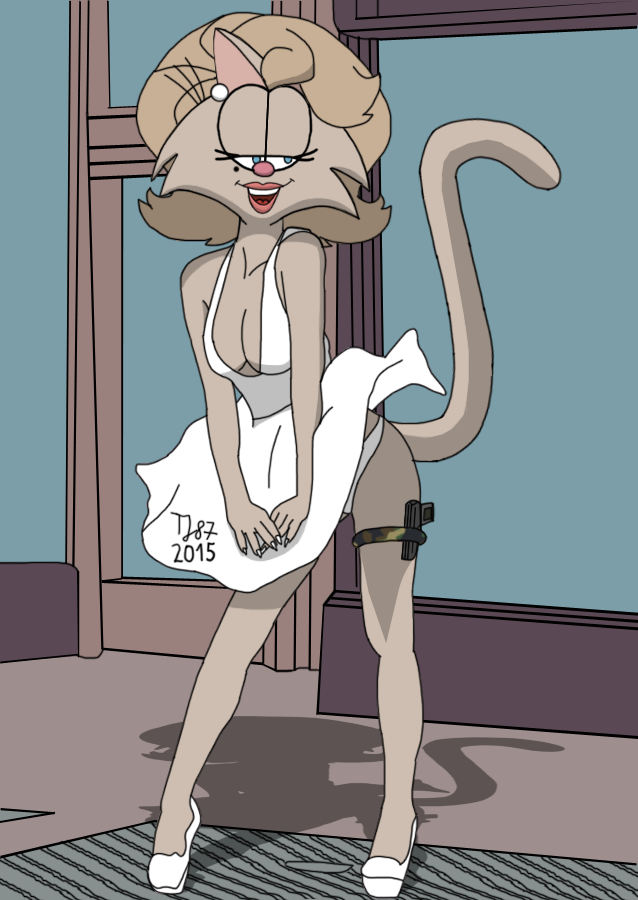 Description
Crossover between
"Garfield and Friends"
and 1955 film with Marylin Monroe
https://en.wikipedia.org/wiki/The_Seven_Year_Itch
, with
http://garfield.wikia.com/wiki/Mona
replacing Norma Jeane Mortenson
https://en.wikipedia.org/wiki/Marilyn_Monroe
.
Prototype of this picture was drawn yet in 2013, but the pose looked so awful, that it took me some time to develop it. I've picked Mona, because she's resembling the famous actress more than the rest of characters from cartoon. Thought she'd match the famous pose from the movie, as well as new hairdo would be nice variety from her staple bouffant. The shading I used is supposed to depict source of light being located above Mona.
Pussycat Monore is carrying small-round (0.32) pistol on hip due to worldwide unrest with all those sick monsters in human flesh spreading their vitirolic propaganda at others' cost. Plenty of proofs can be seen on deviantART, YouTube, tumblr, Twitter, Storm-artists.net, Weasyl and similar websites, which promote haughtiness flavoured with toxic ideologies.
Mona belongs to PAWS Inc.
General Info
Comments
7
Media
Digital drawing or painting
Time Taken
3 years
Reference
http://www.extravaganzi.com/wp-content/uploads/201