CaliGhoula
CaliGhoula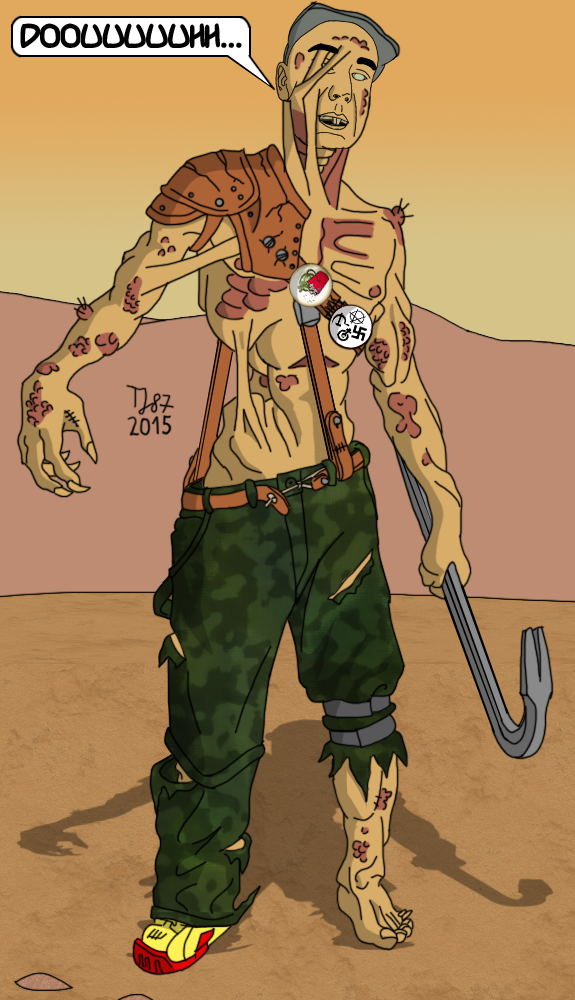 Description
Work inspired by image published by one of my pen friends
http://www.fanart-central.net/pictures/user/Saltwater/846042/Vaulted-Den
Here you have average inhabitant of Vaulted Den known as dA, in other words one of many Californians, who have spent too much time in the sun near damaged nuclear power plant while reading silly books. Such harmful agents caused him to undergo mutation crippling his mind and flesh into zombie-like state. Notice he even couldn't pin his badges in proper way to the harness he's wearing.
His name comes from combination of words "California" and "ghoul", thus "CaliGhoula". His design is mostly based on Fallout New Vegas feral ghouls
http://static-3.nexusmods.com/15/mods/120/images/3211-1-1232708472.jpg
Of course the depicted mutant is not supposed to resemble anyone particular. His similarity to living people is not intended.
General Info
Comments
17
Media
Digital drawing or painting
Time Taken
1 day
Reference
http://static-3.nexusmods.com/15/mods/120/images/3