Unasked Guest mild version
Unasked Guest mild version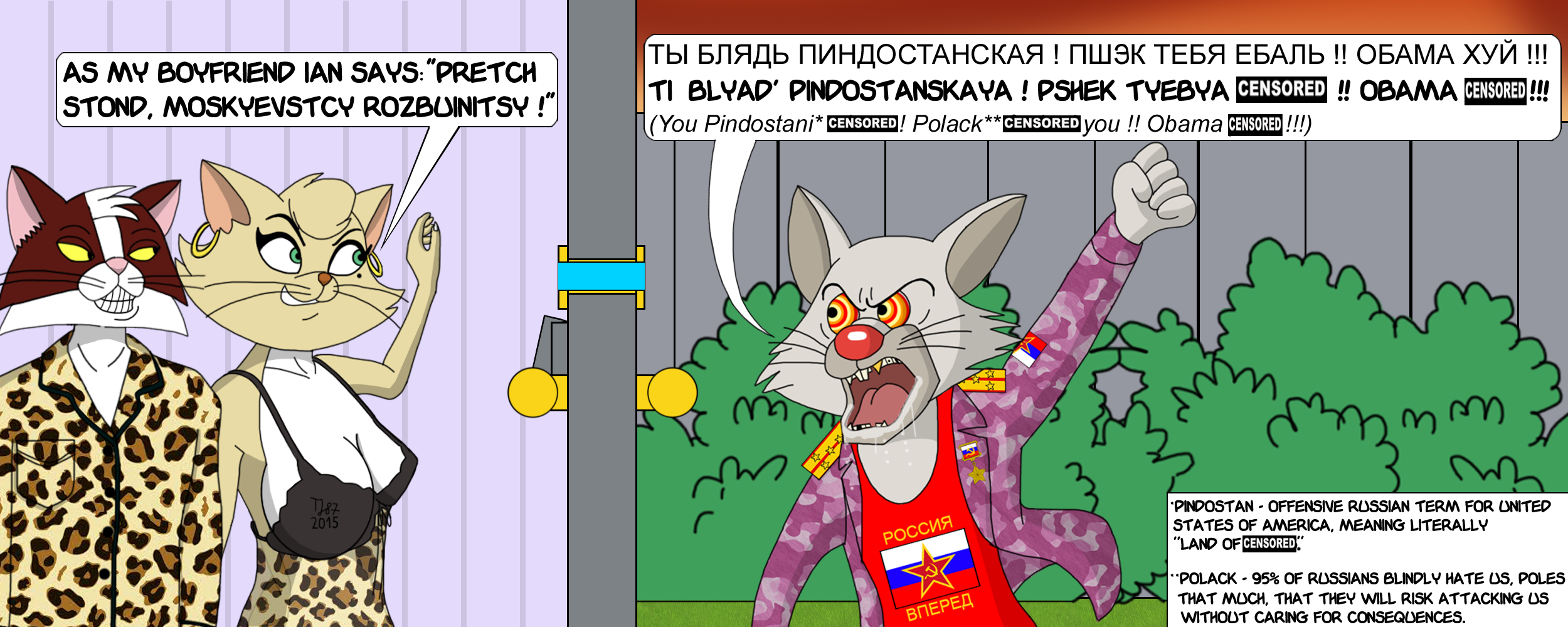 Description
Milder version of
http://www.fanart-central.net/pictures/user/TeeJay87/846442/Unasked-Guest-original-version
with censorship markings to limit the use of rude words.
Picture developed from
http://www.fanart-central.net/pictures/user/TeeJay87/846047/All-nighter-Pussycat-WIP
with Ian borrowed from
http://www.fanart-central.net/pictures/user/TeeJay87/846176/Family-Shelter
- Volodya Paskudnikov wasn't invited for pajama party held by Pussycats, so he's expressing his negative emotions in front of the door to their house. Good for cats, the door is Russian-resistant - made of steel hardened with vanadium with mounted leftist sensor and electronic lock with password mechanism.
95% of Russians behave in exact same way like Paskudnikov does in my picture - they're easy to be driven crazy, and once annoyed, they spew slurs with speed of AK-47 in burst mode. Woe to those, who meet angry Russian in real life - such incidents often end up with severe injuries, often leading to death, since Putin's electorate is known here of its ferocity while in berserk mode. Best examples can be found on YouTube - type "road rage Russia" and check the results; you'll be amazed that the nation of Tolstoy, Dostoyevsky and Solzhenitsyn still maintains half-savage barbarians in great quantities.
The same Russians also hate Barack Obama - not for his lack of competence as the president of the United States, but for the fact he is the president of the country they hate from fear and that they view his gestures as signs of weakness. Every Russian insult aimed at Obama is intended to be targeted at American society per se, due to Russian mental shortcut stating that "leader of a country equals citizens of that country."
That's also the reason Paskudnikov is insulting Obama in front of Delilah's house - he's hoping she'd find such immature behavior so disgusting she'd expose herself for Volodya's aggression.
Delilah is saying in Polish (as non-native speaker, using English phonetic transcription)
"Scram, you Moscovian bandits !".
Delilah belongs to Warner Bros.
Ian Zaleski and Volodya Paskudnikov belong to me.  
General Info
Comments
14
Media
Digital drawing or painting
Time Taken
Haven't checked
Reference
couldn't find