Birdbrain in Beirut
Birdbrain in Beirut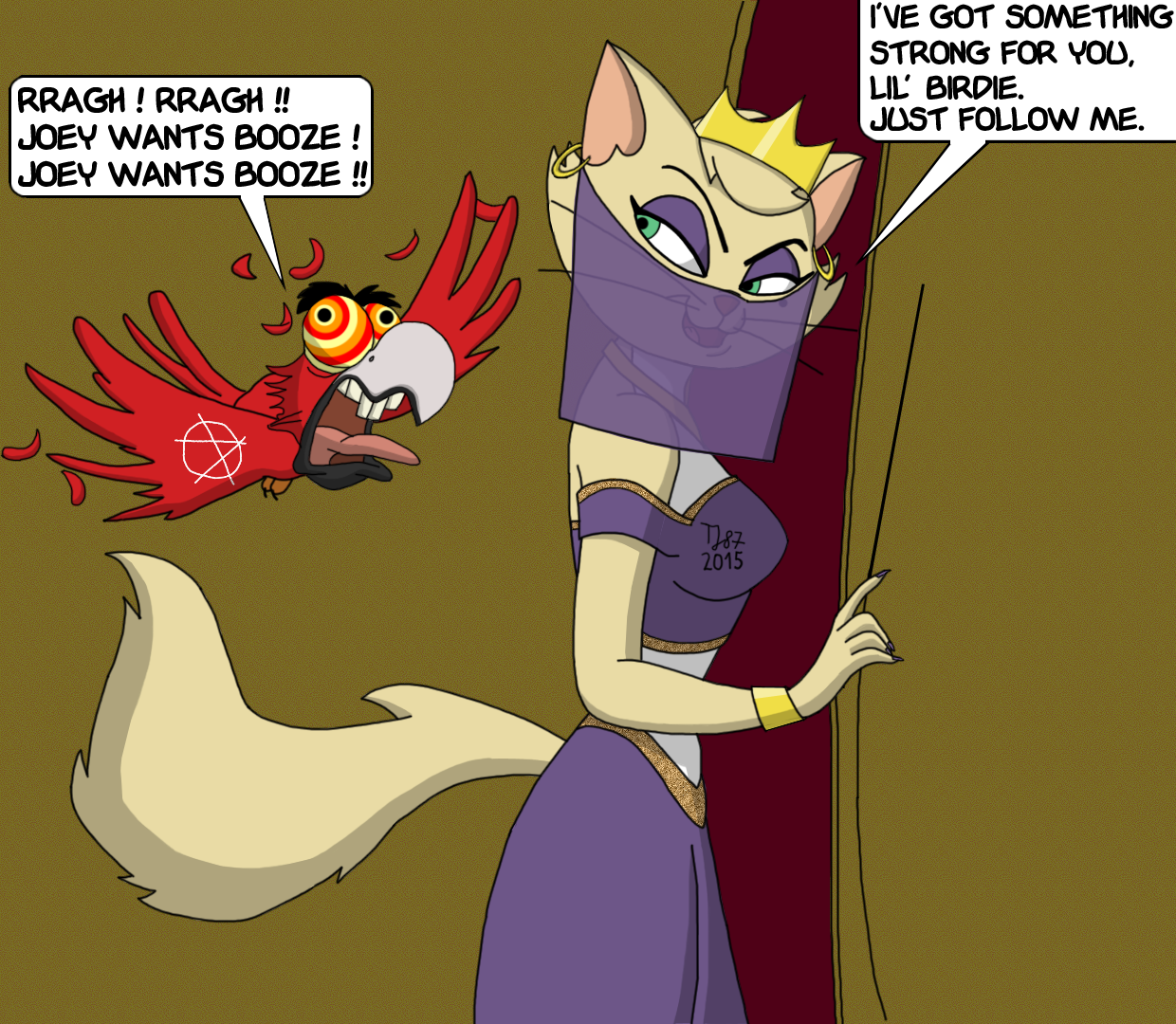 Description
After loss of outposts in Vathi, Greece and Curst Diego in California, M.A.S.T.A.R.Y. (Malicious Association of Socialists, Trolls, Anarchists, Rowdies and Yahoos) decided to seek for cannon fodder and territory amongst Middle Eastern fundamentalists. Part of the reason was the nature of those Jihadists, including lack of common sense and logic M.A.S.T.A.R.Y. thugs considered as comparable to their own; another part was that the leftists desired natural resources commonly found in the Levant, that is: oil, Israeli nuclear weapons and financial reserves of Saudi Arabia, Kuwait and Jordan. After long discussion, leftist coppola selected candidate suggested by British psychopaths branch - Joey the Drunk Parrot from Loonie-ton, UK. As descendant of Iago (pet of Jaffar and Aladdin), Joey was considered ideal messenger to Jihadists, despite his alcoholism and short attention span.

Hopefully, the entire decision process carried out inside M.A.S.T.A.R.Y. had been wiretapped by NATO's International Counter-Bad-Guys Division. Analysis of leftists' plan proved it had one severe weak point - Joey was ordered to contact high-ranked male and female members of ANY Jihadist terrorist organization, making sure the female was from noble family and male was army officer, without precising their personal data. Silly people develop silly plans. Divisional staff quickly developed Operation Bird Flu Bust (named due to the impact leftist nonsense has on mind - just like flu) , with Delilah Pussycat and Ian Zaleski assigned for the operation. Being familiar with the Middle East, Del's job was to seduce the Drunk Parrot and catch it alive, while Ian (who volunteered for the mission, because he didn't want to let Delilah alone in hostile environment) was to protect Del and backup her when necessary. The agents took Walther PPK pistols and proper disguises with fake identities - Pussycat dressed herself as Sultana Kittykat, while younger Zaleski wore uniform of officer from SS mountain division "Handschar" as SS-Obersturmbannfuehrer Slobodan Idiotoshevic U-Boot Pasha. Both Del and Ian didn't feel much comfortable in such outfits - she looked like courtesan and he felt disgust impossible to describe in words, while wearing uniform of formation responsible for harassing his homeland between 1939 and 1945. But that was the only way of concealing inside of society fond of limiting women rights and praising socialist war criminals at the same time.

Joey was to find his contacts inside Kebab Efendi Cafe in Beirut, close to U.S. and British Embassy. Once he reached the destination point, Delilah and Ian were already in their positions. Naturally, nobody in Levant found suspicious the presence of Arabic-looking princess and her male from Islamo-fascist division.
Journey from Loonie-ton to Beirut made the Drunk Parrot thirsty - poor fellow emptied whole bottle of Passport Scotch whisky before flight and the alcohol evaporated from his body somewhere above the Arctic Ocean. Having realized, that he messed up direction, our bird brain hid himself in plane heading from Murmansk, Russia, to Riad, Saudi Arabia, emptying vodka supplies for passengers. Someone has spotted Joey and the pilot threw him out the window just above Beirut. The first thing the leftist parrot made there was finding a place full of strong alcohol - someone told him about Kebab Efendi Cafe serving such strong liquor, that few could stand on legs after 2 deep shots.
"Sounds like something for me"
thought Joey and headed to the source of eau de vie in the land of prohibition.

Our birdbrain managed to find a building close to American and British embassies, resembling a mosque with alcohol bottles instead of minarets and huge neon "Kebab Efendi Cafe, Best Arak in the Middle East". Inside the speakeasy, Joey witnessed selection of suspicious-looking thugs, some dressed in turbans, some in more European manner, surrounded by harlots in harem outfits; everyone was drinking fluid from bottles with arabic writings on labels and smoking weird-looking pipes.
-
"Are you looking for something ?"
- He heard female voice in perfect English and saw catfolk woman dressed like Arabian princess: in purple-with-golden-thread oriental-fashioned pants with matching top and face veil, supplemented by golden jewelry composed of necklace, crown, earrings and bracelets.
-
"RRAGH ! Who are you ?"
- Asked Joey.
-
"I am Sultana Kittykat from Islam-meow-fascist movement."
- Replied Delilah. -
"I was told that infidel fascists from Europe and America need our help in overthrowing Western culture for the glory of Marx, Hitler and Stalin. Aren't you their messenger ?"
-
"I AM ! RRAGH ! How did you know that ?"
-
"Your tattoos on wings."
- Delilah pointed at them, Joey had huge white anarchy symbols tattooed on his red feathers. -
"It's difficult not to see them."
-
"RRAGH ! I'm thirsty, haven't drunk since I left Loonie-ton, RRAGH !"
- Replied Joey. He was such a drunkard, he had to fill his guts with alcohol regularly; breaks from ethanol longer than 1 hour annoyed him, and after 6 hours without drink, he felt such outraged he couldn't be talked to normally before drinking.
- "I've got something strong for you, lil' birdie. Just follow me."
- Said Delilah and lead Joey screaming for alcohol to the curtain behind the bar, where Ian was hidden in the darkness awaiting to catch the yelling bird leftist, as he had arranged with Delilah.


Behind the curtain, it was so dark, that Joey couldn't see his own beak. Naturally Delilah and Ian could see him in deep darkness perfectly without trouble. The birdbrain started to yell like madman:
-
"RRAGH ! RRAGH !! You promised me something strong, Sultana ! Where is it !?"
- "Over here !" -
Joey heard voice with Slavic accent and felt painful blow on his head, then he lost consciousness.

***
Stunning Joey went smoother than Ian expected. Single punch directly at noisy parrot's head silenced it for enough long to wrap the bird in old coffee bag and leave the cafe with Delilah and their captive. Guards of U.S. and British embassies helped the agents abandoning Beirut safely - apparently they had been told about the operation as well. On board of transport helicopter, Ian finally could get rid off that disgusting feldgrau uniform and fez with Schutzstaffeln insignia he had to wear for the mission. At last they could dress normally, since the helicopter had been sent with their regular army uniforms prepared to be worn.

***
When Joey woke up, he still felt pain in the head. Someone placed him in a cage with electronic lock, definitely not inside the Beirut speakeasy. That "Sultana" he saw yesterday was now wearing US Army uniform without jewelry and makeup she had last night, and she was accompanied by male catfolk in similar uniform, just with Polish army insignia, and couple of specialists in uniforms he couldn't recognize. The fake Sultana told him:
-
"Listen up, bird brain. Either you will tell us everything we want to know, or we'll see how long will you last without booze."
Joey has never been in such a peril before. Nobody told him, that those "pesky capitalists from the West" would set such a trap against "vanguard of the so-called working class" like him... He was the one, who should trick the so-called enemies of the proletariate !

Drunk Parrot wasn't the first leftist, who learnt in hard way that life can be brutal, especially for follies.
----------------------------------------------------------------------------------------------------------
Developed version of
http://www.fanart-central.net/pictures/user/TeeJay87/846609/Levantine-Delilah-sketch
with added story to the picture.
That insane parrot was created by one of my pen friends from dA, who drew it as gift for me and gave me authorisation to draw the character. I picked overall red for birdie's feathers, with addition of anarchist symbols on his wings. In short, we have model example of bird brain with mind polluted by leftist nonsense.
As for Delilah, she is dressed in similar manner like Princess Jasmine from Disney's Aladdin motion pictures
http://disney.wikia.com/wiki/Jasmine
. Ian is hidden behind the courtain Delilah is leading Joey to - I had no idea, how to depict them all in convincing way in one picture.
Delilah belongs to Warner Bros.
Joey belongs to me and my pen friend
Aladdin series belong to Disney
General Info
Comments
12
Media
Digital drawing or painting
Time Taken
Haven't checked
Reference
http://vignette2.wikia.nocookie.net/disney/images/