Buddy of the Working Class
Buddy of the Working Class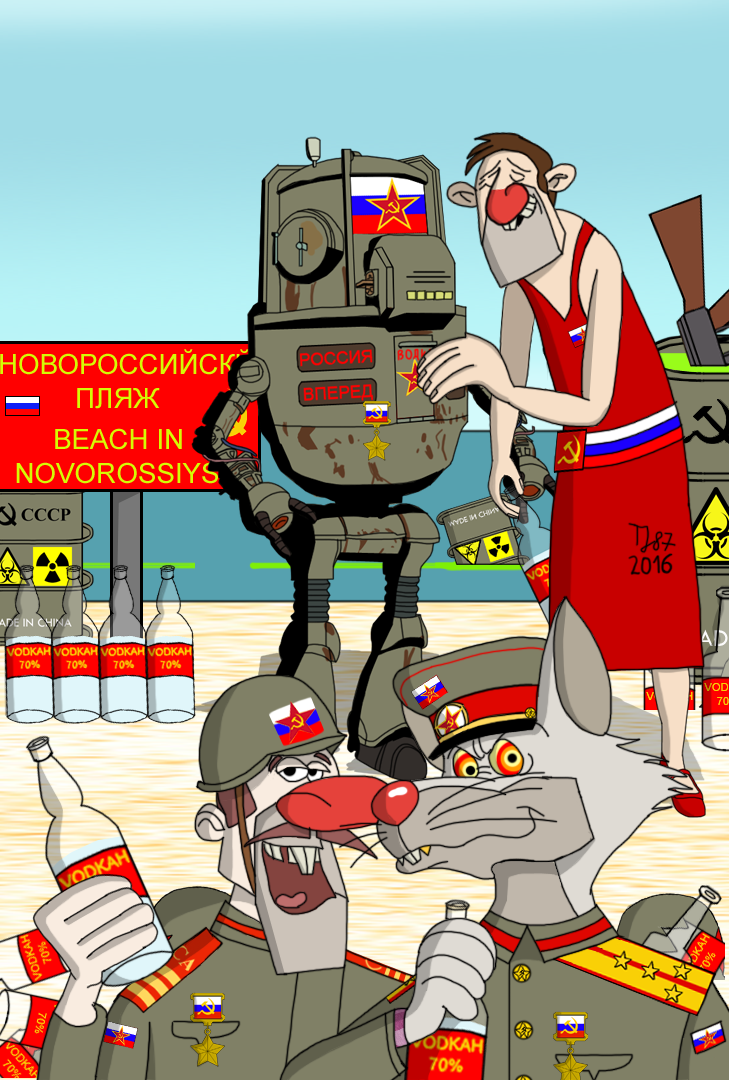 Description
Stakhanovets Adin had its baptism of fire during Operation Nu-Suleiman-Pogodi, when Emperor of the Great Russia Putin decided to purify his czardom from Turkish tourists spending holidays in Novorossiysk. The only reason was that Turkish air force shot down in November 2015 one Russian Su-24 bomber, which crew was harassing
Turkish air space.
Colonel Mussoliniev from 13th Moscovian Mechanized Infantry Regiment selected three "volunteers" to perform mission ordered by Kremlin - captain Vladimir Paskudnikov was to lead a squad composed of sergeant Dimitry Averellevych Dolt-on-Istov, junior sergeant Silly Vassily Imbetsylyev and Stakhanovets Adin and liberate Novorossiysk beach from enemy tourists, whose only fault was that they left money to local Russian tourist facilities. Our heroes of Great-Rus imperialism were to round up as many "Henchmen of Erdogan" as possible and wait for KGB to take over the captives.
The day appeared to be calm, when around 200 tourists from Ankara, Istanbul, Edirne and couple of other Turkish towns were resting on Novorossiysk beach. Suddenly, they heard shots from firearms and noticed, that they're attacked by group which appeared to be composed of 2 Russian Army soldiers, one LGBT activist from Moscow and one noisy robot, which looked like walking samovar. Frightened Turks gathered around the beverage stand, while wolf in Russian army officer uniform was threatening them with AK-74 rifle and yelling Russian slurs addressed to them. They couldn't escape, since human Russian soldier with mustache, LGBT activist and robot were also armed just like the Volkoarmyeyets and actively helped him in seizing those people.
At midday, KGB convoy arrived with Kraz trucks and took the tourists as hostages of Great-Rus empire. Paskudnikov, Dolt and Adin were awarded with Hero of Mother Russia medals by Putin himself. Only Vassily wasn't awarded, just because his beliefs are offending Kremlin's mainstream.

The Turkish captives were released and allowed to go back home after diplomatic NATO pressure performed upon Russia, when Emperor of the Great Russia finally realized, that Muslim countries don't pay ransom in alcohol.
-------------------------------------------------------------------------------------------------------------------------
Picture developed from
http://www.fanart-central.net/pictures/user/TeeJay87/847658/Stakhanovets-Adin
, with added Silly Vassily (leaning to robot), Dolt-on-Istov (left in the foreground) and Paskudnikov (right in the foreground). Our heroes of Great-Rus imperialism have just been awarded for their outstanding performance against "Erdogan's Fifth Column" and are posing to photo, being taken by TASS journalist.
Story for my picture is based on last year incident
https://en.wikipedia.org/wiki/2015_Russian_Sukhoi_Su-24_shootdown
General Info
Comments
11
Media
Digital drawing or painting
Time Taken
Haven't checked
Reference