Moscovian Evenings
Moscovian Evenings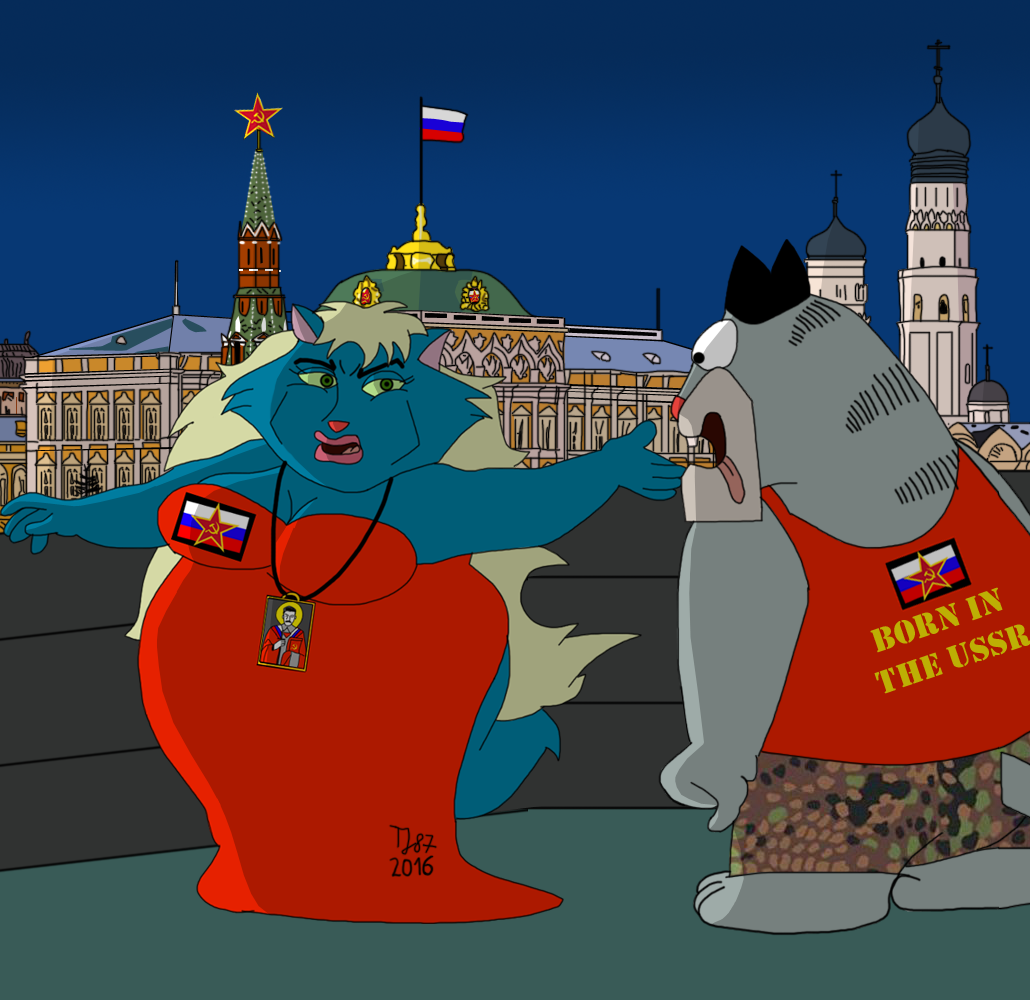 Description
Igor has never been deeply involved in relationship with female - just like most of his Russian communist brethren, he rather cared about vodka, food supplies and facilities to harass people living westwards from Russia than about having own progeny and second half. After all, communist dogma considers marriage as family as "obsolete relic of bourgeoisie capitalist society" or something like that; in simpler words, it means that true cultist of Marx, Lenin and Stalin is expected to replace his biological relatives with community of dim-witted individuals, who share beliefs in utopia impossible to imply. Revolution against nature for the glory of proletariat.

Things have changed, when Igor met Olga in the Red Square. Perhaps our feline bolshock found Commissar Salotchkinaya attractive, perhaps he had need to have friends in Moscovian KGB, or perhaps he was simply in need of female companion. It wasn't real obstacle, that Olga already had husband and kids - true revolutionary despises ideas of private property or honesty. Especially since Russian Blue chekist did agree for a date with our meatball.

During the rendezvous, Igor was so charmed with Olga, that he forgot about need of eating and drinking until he took his new girlfriend into special restaurant for Russian communists only. One thing for sure, he found a woman, who agrees with him almost in everything.
---------------------------------------------------------------
Two fat cats put together in one picture:
- Igor (Siberian Forest)
http://www.fanart-central.net/pictures/user/TeeJay87/842612/Igoryoskha-Uzhashnaya-Koskha
- Olga (Russian Blue)
http://www.fanart-central.net/pictures/user/TeeJay87/848827/Russkaya-Gawhubovaya-Olga-Salotchkinaya
drawn in casual clothes on top of balcony with view at Moscovian Kremlin.  Title of the picture was inspired by famous Russian song
https://www.youtube.com/watch?v=n0ePZvnGuFc
.
Olga is wearing necklace with Stalin as Orthodox Saint - despite harsh prosecution of religious people in the Soviet Union between 1924 and 1941 (during Stalin's reign), many Russians do consider that bloodthirsty monster as their lord and saviour. Igor isn't better - he's wearing
Erbsenmuster
camouflage trousers adjusted to his body shape.
This picture is my gift for Saltwater, who inspired me to draw those Moscovian Meatballs together. :)
General Info
Comments
16
Media
Digital drawing or painting
Time Taken
3 weeks
Reference
none