Dolt-on-ism: Southern Fried Dolt
Dolt-on-ism: Southern Fried Dolt
Dolt-on-ism: Southern Fried Dolt
by
TeeJay87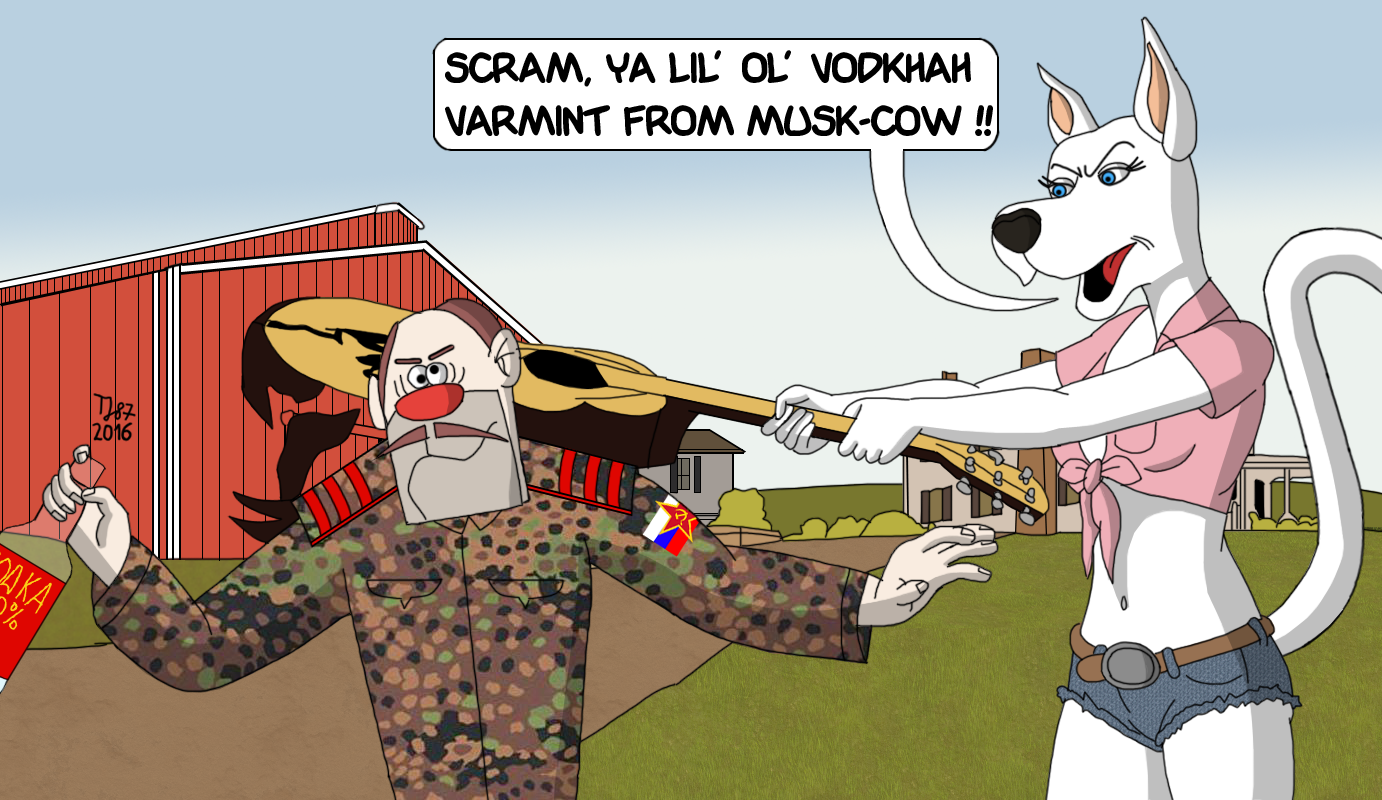 Description
Dolt-on-Istov has always been interested in alcoholic beverages drunk in the land of his ancestor Averell Dalton - the United States of America. Beer and wine aren't drinks worth Great-Rus vanguard of neo-Bolshevism due to their low power, but whiskey and moonshine do sound promising, especially those stronger than 50%. Since "the great" Stalin himself was great fan of whiskey, nobody said that his cultists can't try potions their lord and saviour did enjoy. Karl Marx would appreciate such liquidation of class division.
Admiral Popov and Commissar Salotchkinaya sent Dolty for spy mission to Bardstown, Kentucky during locally held Whiskey Festival there. Not because they had good will (since communist dogma considers good will as sign of weakness and relic of capitalist bourgeoisie values not worth pride of socialism), but because they were curious, what do their accursed "Pindos" from "Pindostan" drink and sell to the free world. Another communist rule does state, that it's better to rob capitalists from fruit of their labour than to create something for your own.
Doltie's mission was going on smoothly, until he started to complain, that nobody had Russian vodka for sale in Bardstown. When he started harassing locals with Great-Rus slurs revolving around Russian hatred for Barack Obama and everything American, many people felt disgusted that nasty Russian Army sergeant in Erbsenmuster smock implies them supporting the president of the United States, who spent most of his time playing golf than carrying out his promises from election campaign. One Great Dane from Georgia named Edith Doo, or "Scooby Dee" for friends and relatives, couldn't resist and she whacked our Moscovian fan of totalitarianism with her guitar directly at Dolty's thick skull.
The incident ended up in court - Dolt-on-Istov was found guilty of spying for Kremlin, disturbing in local event and causing 75 USD damages for guitar he had broken on his empty head. Despite being punished with 1989 years of prison, Dolt was deported to Russia without right to come back, mostly because nobody in the US Penal Department was willing to keep in American jail foolish Russian Army NCO.
---------------------------------------------------------------------------------------------------------------------------------------
Comple
ted
version of
http://www.fanart-central.net/pictures/user/TeeJay87/849114/Dolt-meets-Scooby-Dee-raw-sketch
, fully in colour. Scooby Dee was supposed to use different word against Dolt, but I've replaced it with more audition-friendly term.
Doltie is intentionally wearing uniform in
Erbsenmuster
pattern with Russian insignia - that's because Great-Rus imperialists have been proving many times, that they've learned too much from Hitler and his thugs.
Background behind Dee and Dolt was inspired by photograph of Clermont, Kentucky.
Scooby Dee belongs to Hanna-Barbera
Dolt-on-Istov belongs to me.