Catfight 2: Kalashnikov Kawaii
Catfight 2: Kalashnikov Kawaii
Catfight 2: Kalashnikov Kawaii
by
TeeJay87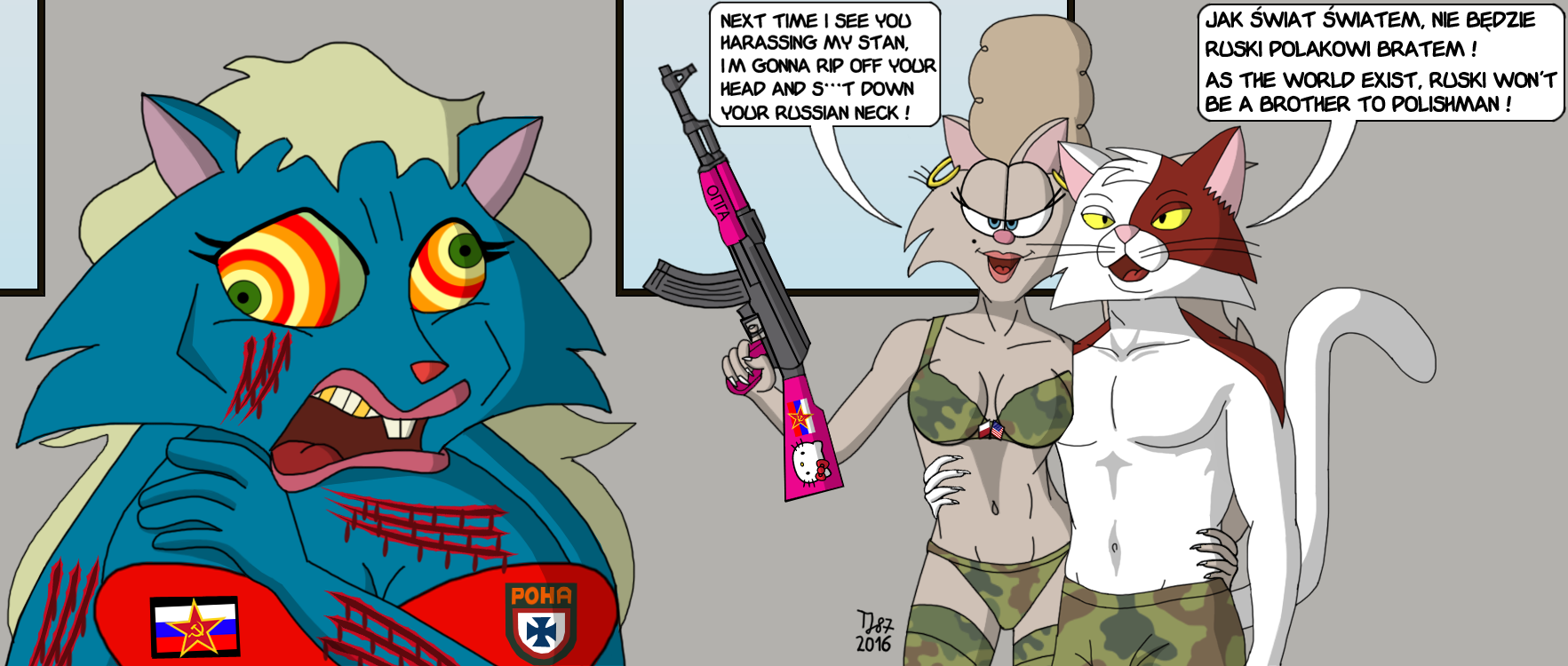 Description
Having developed relationships with their Pussycat girlfriends, Stan and Ian decided to show Penelope, Mona and Delilah their Polish homeland through a trip planned on two axis: between Szczecin and Ustrzyki Dolne and between Suwałki and Krosno. The queens found land of their tomcats as fairly enjoyable, except Łódź (which turned out to be a den of leftists, similar to San Freakcisco) and Warsaw (due to unfriendly locals, awful drivers and messed-up architecture). Suwałki seemed quite a nice place, just located a bit too close to Russian Kaliningrad.
The cats found newly-opened hotel, located not far from Augustów Forests, known as "the Green Lungs of Poland". They didn't know, that one of rooms in the same hotel was occupied by Olga Salotchkinaya, sent from Moscow through Kaliningrad to find out the best way of robbing us, Poles, from coal located in seams beneath the Augustów Forest. The plot was as flawed as sinister, because Olga's equipment was limited to one made-in-China pick ax, two bottles of Stolichnaya vodka, and her personal firearm - AK47 with pink wooden parts adorned with portrait of Olga's favorite character from anime - Hello Kitty.


It didn't take Olga much time to notice, that other members of cat folk lodged rooms in the hotel - she spotted three female "Pindos" with better body shapes than hers and two similar-looking male "Psheks" Olga found attractive due to their musculature. Igor has more lard in belly, Volodya is too slim and Mitya (Olga's husband) doesn't even look masculine enough, but those two sons of Polish soil really look like alpha males. Olga immediately forgot, that she blindly hates everyone and everything related to Poland - perspective of two new lovers veiled part of her national prejudice. Instead of robbing Vistulan Land from coal, Commissar Salotchkinaya decided to rob three Americans from their lives and males.


Penelope, Mona and Stan took one available room on third floor of the hotel, while Delilah and Ian picked the room on the opposite side of the corridor. It was past 9:00 PM. Having caught severe cold, Penny had to rest in bed, while Mona and Stan were watching local news on TV before going to sleep. Olga decided she'd first kill those "Pindos" with huge blue eyes and turn their common male into bondage toy. Being done with him, she would do the same with third "Pindos" and second "Pshek" in another room. Three Americans killed and two Poles humiliated - Admiral Popov would definitely forget about the failed plan of robbing Polish coal ! Instead consequences, Olga wound obtain another medal to her collection.
Russian Blue commissar entered the room occupied by Stan and Pussycats in typical Russian manner - first she kicked the door and struck the stock of her Kawaii Kalashnikov on door's remnants. Olga expected the inhabitants of the room to be sleeping - all she saw was one "Pindos" sleeping and another one sitting on couch with "Pshek".
*
Mona and Stan saw Russian burglar waving with silly adorned AK47 and yelling in botched English slurs about Mona's American homeland mixed with calls to hand over Stan. Drunk meatball was approaching with the gun towards the couch, yelling the same slurs.
*
When Olga came close enough, Mona kicked the rifle from Olga's hands and jumped at her with prepared claws. The hand-to-hand combat lasted maybe one minute, when Olga, having scratches all around her body, started to beg Mona for mercy in Russian and English. Stan managed to fetch the gun, it turned out its magazine was empty. Mona didn't even get single scratch from the aggressor, which isn't much surprising - American paratroopers have always been performing better in melee combat than Chekists.


Due to her good nature, Mona promised to spare Olga on the condition the Russian Blue would keep away from Stan and Ian. Feline commissar didn't even dare to bother Delilah and Ian; instead, she abandoned Poland without her equipment, but with wounds on her body and pride. Even nowadays, other Chekists in Moscow mock Olga for her lack of skills and competence. Admiral Popov was considering to demote Olga for such a failure, but instead, he sent Olga to the part of Great-Rus Empire known as Chechnya - full of radical ISIS-like Muslim population, where locals are known to abuse women rights and hate Russians with passion. Such passion, that only few Russians, who come to Chechnya, return back home alive.


As for our heroes - Penelope recovered from cold the next day after incident with Olga. Delilah and Ian woke up, when they heard noises from the opposite room, but having reached it, Russian Blue was already begging Mona for mercy on her knees. The rest of trip around Poland was free from such adventures.

---------------------------------------------------------------------------------------------------------------------------
Follow-up of
http://www.fanart-central.net/pictures/user/TeeJay87/849650/Catfight-Paratrooper-against-Chekist
, the whole story behind this picture is described above. Stan is gentleman, which means he won't hit any female - having such girlfriends like Mona or Penny, he doesn't really have to worry about female opponents.
Mona doesn't use such foul words normally - imagine, how would you feel, if someone dared to disturb peace of your home or hotel room you're hiring and that person disturbed you in the same way Olga disturbed Stan and Mona. I'm sure you wouldn't be impressed - so is Mona, thus she's repeating famous quote by Sergeant Hartman from
Full Metal Jacket.
The idea of Hello Kitty AK47 isn't supposed to attack fans of anime and manga as themselves - I've developed it from hypocrisy performed by Russian communists:
- they claim they fight capitalism for the glory of their homeland;
- Russia has ongoing conflict with Japan for Sakhalin island;
- yet those fans of Stalin don't see obstacles in enjoying fine products of Japanese capitalism - anime and manga. 
In short -
according to Russian communists, Japan is twice-minus-bad, but stuff from the same Japan is twice-plus-good.
Sounds silly ? Sadly it's their
modus operandi.
Not the peak of hypocrisy, but still on such scale it deserves good chuckle.
Notice Olga is wearing Great-Rus and RONA emblems on her outfit, while Mona's nightwear has the same wz.93 pattern like Stan's shorts. Stan is saying the same quote in Polish and English - I've gone for direct translation, hence it may sound clumsy.
Mona belongs to PAWS Inc.
Stanisław Zaleski and Olga Salotchkinaya belong to me.
General Info
Comments
16
Media
Digital drawing or painting
Time Taken
Haven't checked
Reference