Champion of the Chapter
Champion of the Chapter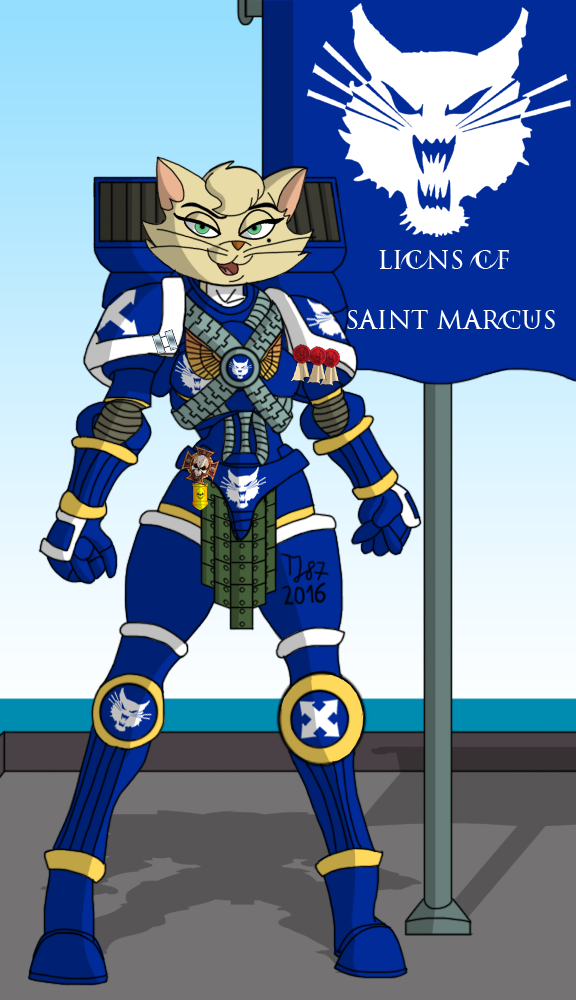 Description
Lions of Saint Marcus are Loyalist Space Marines chapter composed of Felinians - native inhabitants of Felinian System, located on the opposite side of the Milky Way. Their home is called Planet Fellini - world almost identical to Earth, except of differently formed continents. Felinians also control the following planets:

- Catopia - desert world with little population, praised for natural resources mined there;
- Scratchuras - jungle planet used mainly as bootcamp for Lions of Saint Marcus;
- Litterion - dead world used as penal colony for their criminals.
Felinian Space Marines are known in the whole Empire for their outstanding performance against Chaos troops, particularly from listed below chapters:

- Vodka Inhalers (Russian communists banned from Earth to Planet Bolshevia)
- Nu-Pogodi Berserkers (inhabitants of Planet K-9 corrupted by toxic ideologies)
- Drunk Cadavers (CaliGhoulas sent to outer space, where they multiplied in unknown world)
- Swords of Jihad (terrorists from ISIS/Al-Quaeeda/Hamas/Al-Fatah, also banned from Earth and settled in the Planet Zulfiqar)

- Fists of Solanas (various left-wing brigands, who were also banned from Earth and found own home world).
Unlike most of Loyalist chapters, Lions of Saint Marcus retained full rank system from Private to Colonel rank, except that colonels are called in their army "chapter captains", while majors are "battalion captains". Standard O3s are "company captains" inside the chapter - they lead companies in combat, each company formed from 4 or 5 platoons (30 troops) lead by lieutenant. Four or five companies form battalion, while the 10 battalions with leaders make the chapter. Both genders are allowed to serve and fight for the emperor, though only command squads may have soldiers with mixed genders.
---------------------------------------------------------
Picture developed from
http://www.fanart-central.net/pictures/user/TeeJay87/850565/Space-Marine-Delilah-raw-sketch
, with number of modifications in her design:
- reworked boots;
- more details on her armour;
- standard of
Lions of Saint Marcus
- the chapter Delilah belongs to.
Details of Delilah's armour include:
- US Army Captain rank insignia on left pauldron - indicating Del's rank, just like splints on her belt;
- 3 purity seals for resisting influence of Chaos ( toxic ideologies, like socialism );
- 1 Marksman Honor - for accuracy of firearm and laser attacks;
- 1 Crux Terminatus - for killing at least 5 enemies in single battle. Delilah has been awarded with it for the Battle of Planet Dorkon, where she killed in combat one Vodka Inhaler, one Nu-Pogodi Berserker, one Sword of Jihad, two Drunk Cadavers and two Fists of Solanas.
Being Assault Company Captain, Delilah should be wielding chain sword and plasma pistol - while posing near the banner, she's holding those weapons hidden behind her armor. Most probably in a shelter beneath her jet pack.
Delilah belongs to Warner Bros.
Warhammer 40K belongs to Games Workshop.
General Info
Comments
17
Media
Digital drawing or painting
Time Taken
Haven't checked
Reference