Cat-a-phracta Mona mild version
Cat-a-phracta Mona mild version
Cat-a-phracta Mona mild version
by
TeeJay87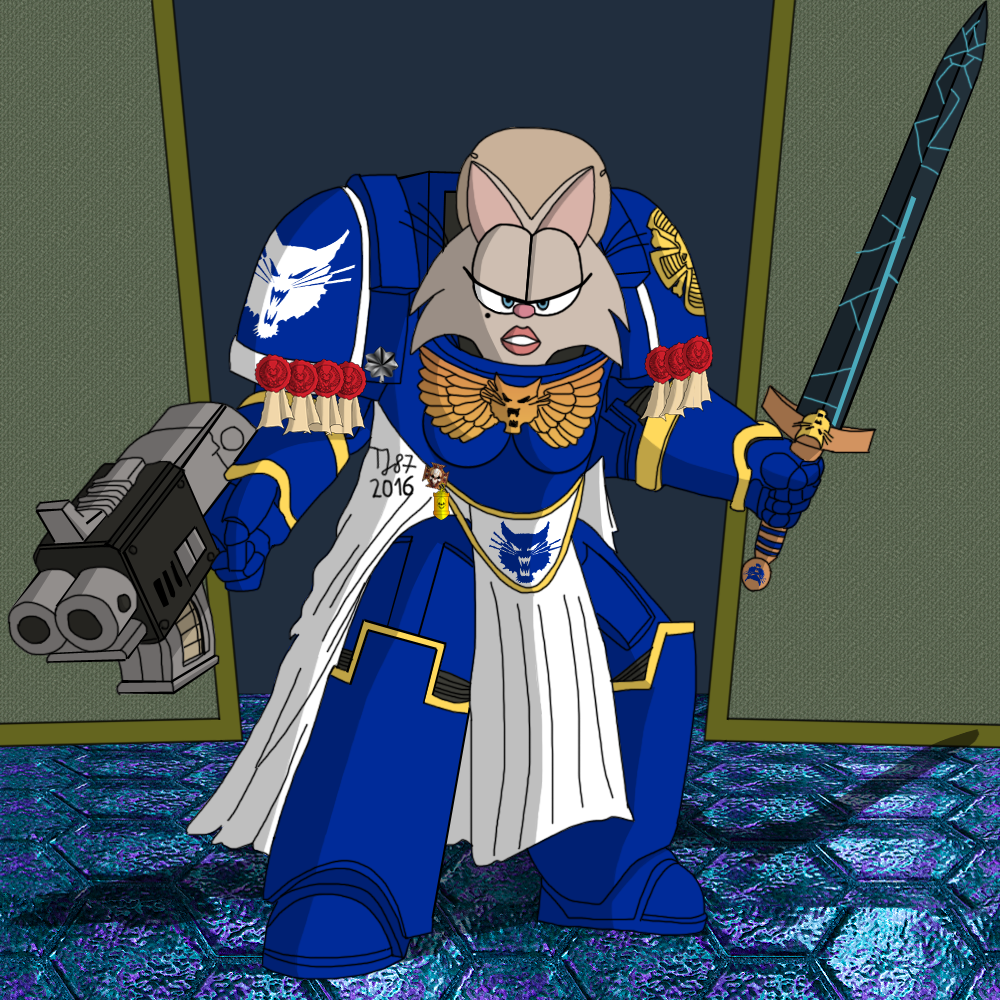 Description
The Lions of Saint Marcus have plenty of renowned warriors, who saw hundreds of battles and proved their skills against enemies of the Mankind in combat. Just like in every Loyalist chapter, creme de la creme of the Felinian Fighters are recipients of Crux Terminatus - Terminators, or Cat-a-phractii as they're called in their mother tongue.


Sister Senior Battalion Captain (Lt. Colonel) Mona Pussycat-Zaleski put plenty of effort to gain the title of Space Marine Mighty Hero and awards for her service, which include:

- 7 Purity Seals - for resisting influence of Chaos (toxic ideologies)
- Marksman Honour - for accuracy of her ranged attacks;
- 2 Cruxes Terminatii - the first one for the Battle of Planet Digliceryde-67, when she defeated in combat 6 Vodka Inhalers, and second one for the Battle of Planet Dorkon, when Mona killed 3 Space Jihadists, 4 Space SJWs and unknown number of Drunk Cadavers from her autocannon.
Many thralls of Chaos (mostly rabid cultists of Stalin, Marx, Solanas and Haj Amin Al-Husseini) attempted to challenge our Mighty Heroine. None of them has succeeded so far - all they got was quick yet painful death in the battle. According to Space Jihadists' beliefs, large number of their brutes has been forbidden entering their paradise
after loosing duel with Mona.

Perhaps their dark deity should change the rules of their faith, if he doesn't want to loose minions for less gender-prejudiced vile entities...

-------------------------------------------------------------------------------------
Completed version of
http://www.fanart-central.net/pictures/user/TeeJay87/850619/Cat-phracta-Mona-raw-sketch
and follow-up of
http://www.fanart-central.net/pictures/user/TeeJay87/850583/Champion-of-Chapter
. Mona is wielding Storm Bolter
http://warhammer40k.wikia.com/wiki/Storm_Bolter
and Terminator sword on board of enemy space ship she's about to cauterize from filth.
See also completed version
http://www.fanart-central.net/pictures/user/TeeJay87/850668/Cat-phracta-Mona-final-version
Mona belongs to PAWS Inc.
Warhammer 40K belongs to Games Workshop