Penny for Penny's Thoughts
Penny for Penny's Thoughts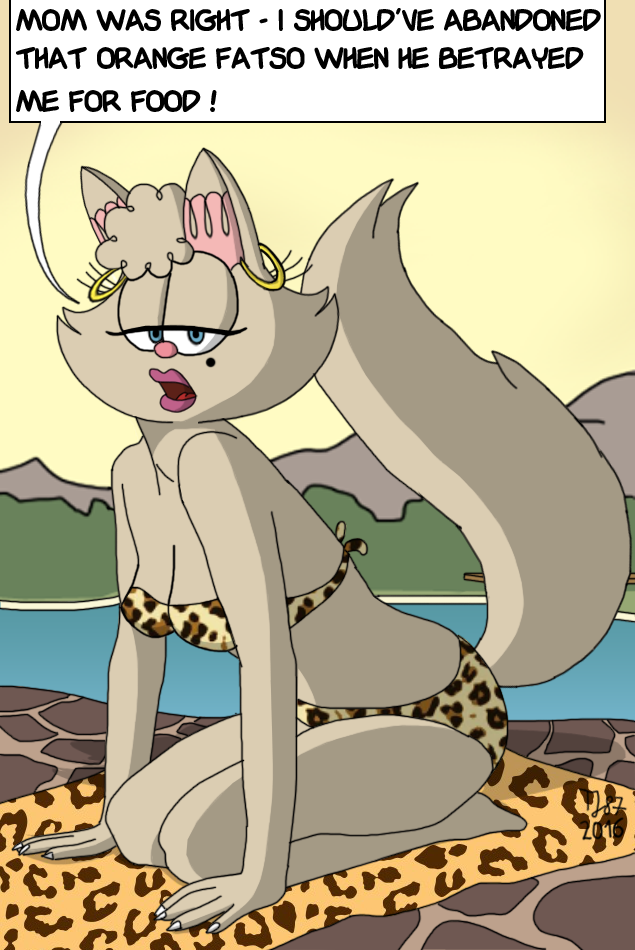 Description
Remake of a picture inspired by
http://orig14.deviantart.net/09af/f/2014/035/a/4/the_naked_i_cover_art_by_peterpulp-d7554tc.jpg
I drew in 2014 and had to delete during gallery clean-up. Since the 2014 version wasn't that good quality (Penelope was badly shaded, could've had better face expression and the picture was tiny sized), I've decided to replace it with better-quality version.
For those, who are wondering about Penny's quote - Garfield has never been treating Penny well in relationship:
- he was initially unwilling to date her
http://garfield.wikia.com/wiki/Perils_of_Penelope
- he betrayed her with another cat
http://garfield.wikia.com/wiki/The_Second_Penelope_Episode
- Garfield also caused Penelope bored on dates in three episodes;
- not to mention the idea of marrying Penny scared him off
http://garfield.wikia.com/wiki/The_Third_Penelope_Episode
, as well as Penny's mother, who is (quite justly) shown not being fond of Garfield as son-in-law
Personally, I'm not amazed this couple isn't popular inside Garfield fandom - majority (including me) agrees, that Arlene makes better choice for Garfield's second half.
Still, I've never understood, why do certain fans of PAWS Inc. franchise blindly hate Penelope with passion worth better cause - negative feedback (easy to find on dA) varies from calling Penny "doormat" (because she's not treating Garfield as roughly as Arlene does) to even sillier demonstrations of immaturity.
Notable example is one Swedish Muslim from Garfield Wiki, who apparently hates Penelope just because she looks like demon from Quran - blonde female with blue eyes.
Weird he's not hating Mona from the same cartoon and Penelope Pitstop from Hanna-Barbera TV shows, who also match the synopsis.
This whole idea of comparing Penelope with Arlene doesn't have sense, since those two kitties are two different types of females - if Arleen had leftist beliefs, she'd have made model example of radical feminist with her tomboyish conduct; while Penny behaves as it can be expected from a lady. Funny that those of Penelope haters I've seen on dA are without exceptions
advocates of radical left-wing
, who oppose traditional values Penny can be considered symbol of.
Penelope Pussycat belongs to PAWS Inc.
General Info
Comments
8
Media
Digital drawing or painting
Time Taken
2 years
Reference
http://orig14.deviantart.net/09af/f/2014/035/a/4/t