Dolt-on-ism: Space Dolt
Dolt-on-ism: Space Dolt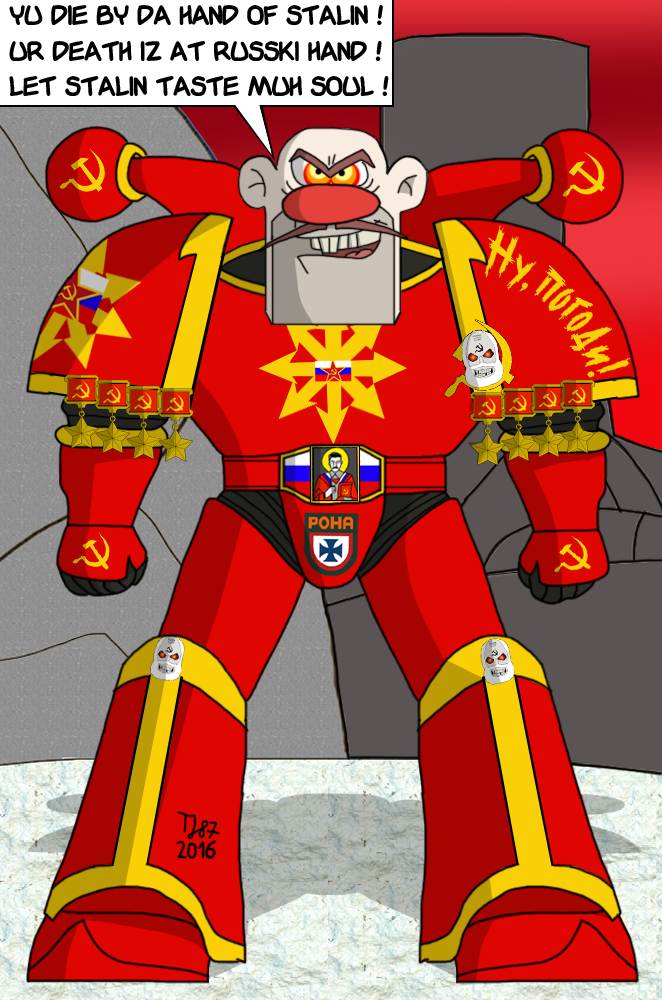 Description
Vodka Inhalers are Chaos Space Legion composed mostly from Russian communists, who had been banned from Earth somewhere in the 24th Century for their disgusting deeds they have been performing against humanity since 1917. After long drift through the Milky Way, their ships crashed on frozen planet lightened by one of red supegiants https://en.wikipedia.org/wiki/Red_supergiant . The Moscovian refugees called their new home "Planet Bolshevia" and spread there like plague. Within less than one century, formerly uninhabited planet became one huge GULAG world and threat to every civilization within range of the Space Red Fleet...
Vodka Inhalers are organized in similar way like loyalist Space Marines, with some exceptions:

- their veterans are called "Aspiring Champions", heroes - "Confirmed Champions" and mighty heroes - "Exalted Champions" ;

- award system reflect their beliefs - instead of purity seals, they reward recipients with Heroes of the Soviet Union Stars; Crux Terminatii is replaced with Skull of Marx, often granted for various merit in combat;
- instead of protecting humanity, Vodka Inhalers attempt to cast communist revolution in the entire galaxy.

Due to Marxist-Leninist-Stalinist ideology Bolshevians worship with efforts worth better cause, huge parts of their home world had been turned either to food farms (relying on slave labour from people caught by Vodka Inhalers in the outer space), or to production centers, where weaponry is manufactured. Just like their Earth descendants, Bolshevians are fond of ripping off weapons from their enemies, naturally adapted for mass production.

Their Space Marines are clad in armours based on those worn by Adeptus Astartes, though made of worse-quality material, which results in lowered level of personal protection. The same policy is executed with weapons - those used by Vodka Inhalers tend to have tremendous firepower in burst mode, at cost of worsened accuracy. 
---------------------------------------------------------------------------------------------
Behold the new opponent for Lions of the Saint Marcus
http://www.fanart-central.net/pictures/user/TeeJay87/850583/Champion-of-Chapter
&
http://www.fanart-central.net/pictures/user/TeeJay87/850701/Space-Mouser-mild-version
- Dolt-on-Istov as Chaos Space Marine from Vodka Inhalers Chaos Legion.
Our thrall of socialist evil is standing on surface of his home world Bolshevia, threatening "filthy capitalists and
Polackeys
*" that messing with him will be bad idea. Bad indeed, but for Doltie - he's not a worthy opponent for our feline mighty heroines due to weaker armor (made in Bolshevia) and inferior combat skills (what could you expect from a silly drunkard ?).
For those, who are wondering, what Doltie is trying to say - he drank too much vodka again, so he's repeating quotes from
Chaos Gate
in English he was taught in New Musk-Cow.
Dolt-on-Istov belongs to me
Warhammer 40K belongs to Games Workshop
*
Polackeys
- Russian hatred towards us, Poles, deserves to be called "legendary" - they've been loathing us since at least 1587, when their czar Ivan IV the Terrible failed to conquer us. This sentiment has been lasting for the following 430 years and it's mostly based on Great-Rus imperialism mixed with jealousy.
General Info
Comments
11
Media
Digital drawing or painting
Time Taken
2 days
Reference