Where the heck is Riff Raff ?
Where the heck is Riff Raff ?
Where the heck is Riff Raff ?
by
TeeJay87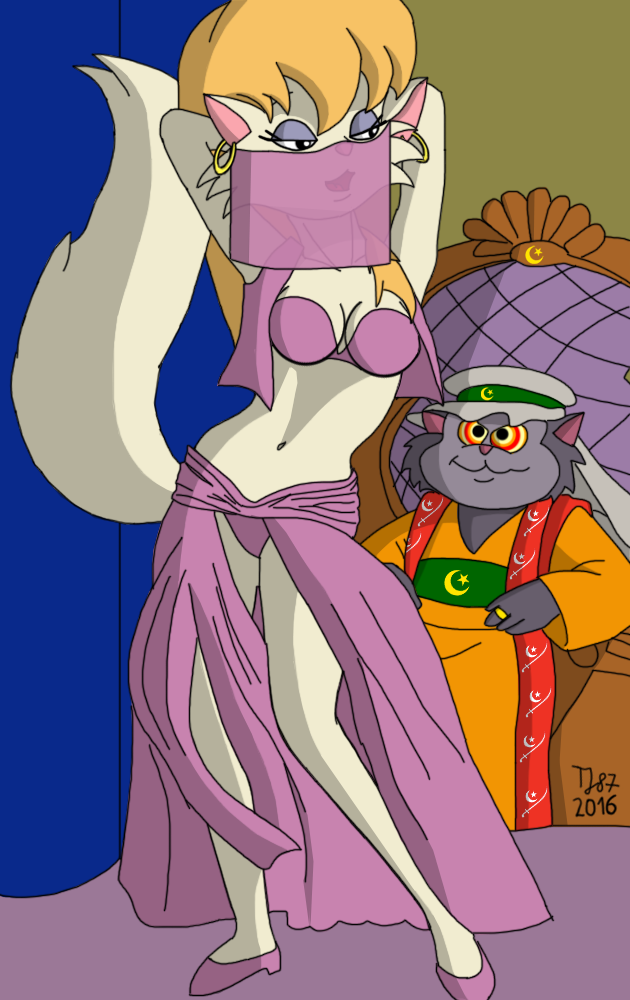 Description
Heathcliff and the Catillac Cats
is one of those cartoons I've grown up on - our private TV made outstanding dubbing, much better than Polsat did with "translating"
Garfield and Friends
into my mother tongue.
One of my favourite episodes of the previous is
"Harem Cat"
from
Catillac Cats
segment - apart from frequent appearance of Cleo
http://heathcliff.wikia.com/wiki/Cleo
and Riff Raff, this 10 minute cartoon from early 1980s shows the true face of advancing islamization. You can watch the episode on YouTube https://www.youtube.com/watch?v=WNZKau8Heb0 in quite decent quality.
The picture posted above is my vision of scene, where Cleo is held on Sheik's plane with Sheik's cat Orville (Omar in Polish dub), who has just told our
catalisque*
-to-be, that she is about to become his 21st wife. Riff Raff and his gang are just about to enter and save Cleo from living inside society, where women are nothing but objects.
I've allowed myself to modify Orville/Omar to underline his Middle-Eastern traits - instead of bluish parts of his outfit, he wears green belts with Osman crescent on belly and
kaffiyeh*
*, supplemented by red straps on
Galabiya
*** with symbols of
Zulfiqar
**** (sword of Muhammad) printed. Our catty caliph (LOL) has either taken hashish***** (drug praised by Mahdist movement, Hamas, Al-Fatah, Al-Quaeeda and ISIS) or "Harem Delight"***** (opium with sweet syrup) as described in the novel
"Aviary Gate"
by Tracy Hickman. Or perhaps our feline paddy-shah took both and mixed them with Palestinian arak*****.
Let this picture be a gift to my pen friend Dumas. :)
Cleo and Orville belong to George Gately.
________________________________________________________________________________
*Catalisque = feline odalisque (slave woman in Muslim harem).
**Kaffiyeh = Middle-Eastern headgear composed of cloth with strap holding it on forehead, originally used by Jews and adopted by Arabs.
***Galabiya = traditional robe worn by men in Saudi Arabia and other Arab countries.
****Actually, Zulfiquar is a scimitar (sword with curved blade), said to be personal weapon of prophet Muhammad. Muslims also call this weapon
"saif an-Islam"
, "sword of Islam", which is supposed to represent "the peaceful nature of Islam".
*****Despite Islam officially forbids Muslims eating drugs or drinking alcohol, it's commonly known fact that they do enjoy both "forbidden fruits" - Moslems simply consume those in darkened room, because "Allah can't see through the darkness". They especially praise 60% strong hooch said-to-be distilled from rice called "arak"
https://en.wikipedia.org/wiki/Arak_(drink)
General Info
Ratings
Category
Date Submitted
Views
1340
Favorites...
3
Vote Score
5
Comments
16
Media
Digital drawing or painting
Time Taken
Haven't checked
Reference