Dolt-on-ism: TechDolt Vodka-seer and his Dolt-hickey
Dolt-on-ism: TechDolt Vodka-seer and his Dolt-hickey
Dolt-on-ism: TechDolt Vodka-seer and his Dolt-hickey
by
TeeJay87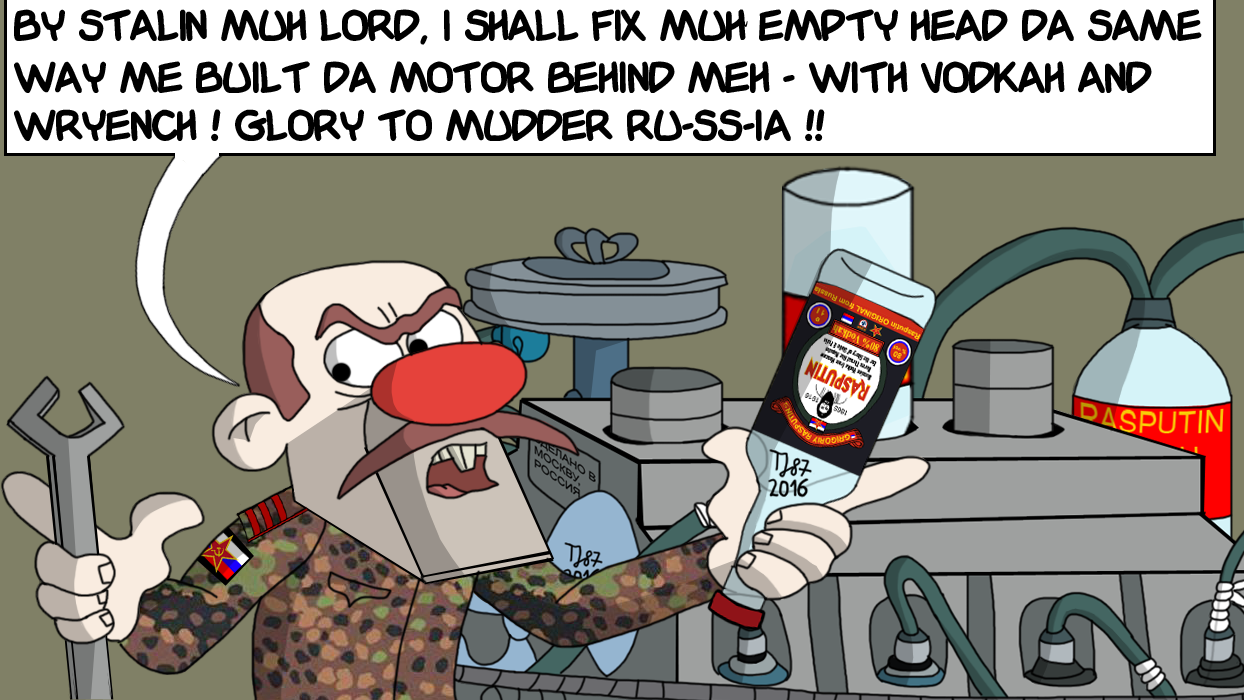 Description
Picture developed from
http://www.fanart-central.net/pictures/user/TeeJay87/851392/Drunk-Engine-WIP
; here you can see "the fine example of socialist technology" called
"Doltovo Kolyesyo"
in Russian and
"Dolt-hickey"
in English.
This work is supposed to parody couple of topics:
- "TechDolt Vodka-Seer" is a pun of character from Warhammer 40K
http://wh40k.lexicanum.com/wiki/Enginseer
;
- "Dolt-hickey" is of course modified term "doohickey" I've seen in the episode of
"Fast 'n Loud"
about building low-rider car;
- Rasputin vodka really exist
http://dutyfree.lotcatering.pl/_index.php/rasputin-vodka-1l.html
, just it has 40% volume and is distilled in Germany. Though nobody said, that Russians can't rip it off as 80%-strong throat burner;
- last but not least, 95% of Russians and all the leftists around the world are really that foolish, so they cure migraine with alcohol and metal tools. Doltie (or TechDolt) is just being
udarnik
of such stupidity.
To avoid issues with copyright infringement, I've made up my own version of Rasputin Vodka label, which can be seen here
http://www.fanart-central.net/pictures/user/TeeJay87/851399/Rasputin-Vodka-Label
. It's based on German original to express the pun of Russians being a nation of copycats - since they ripped off B-29 bombers as Tu-4,
Sturmgewehr 44
as AK-47, AIM-9 Sidewinder missiles as AA-2 Atoll, ripping off liquor distilled abroad for their own needs also makes sense.
Dolt-on-Istov/TechDolt belongs to me.
General Info
Comments
6
Media
Digital drawing or painting
Time Taken
Haven't checked
Reference
See description