Catlashstrikov 2016: Destination Kebabistan
Catlashstrikov 2016: Destination Kebabistan
Catlashstrikov 2016: Destination Kebabistan
by
TeeJay87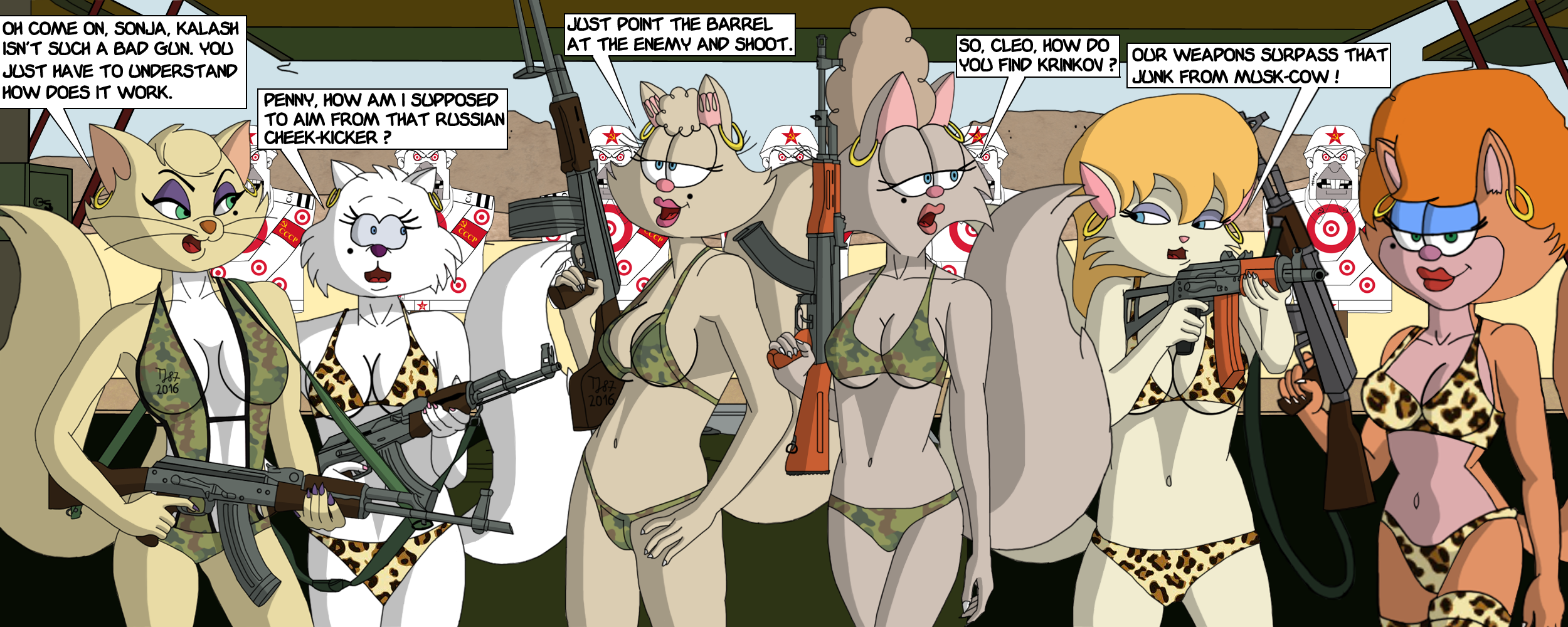 Description
Completed version of
http://www.fanart-central.net/pictures/user/TeeJay87/851691/Bikini-Brigade-WIP
supplemented by Miss Kitty from my 2016 tutorial
http://www.fanart-central.net/pictures/user/TeeJay87/849828/Miss-Kitty-Tutorial---step-by-step
and background - our feline heroines are training before holiday trip to the homeland of Muzz Rats http://www.fanart-central.net/pictures/user/TeeJay87/851477/Team-Pussycat-Nasty-But-Tasty - Kebabistan.
They picked Pussycat's personal shooting range in Texas (not far from Dallas) due to climate resembling the one in The Great Nefud Desert or Rub Al-Khali Desert. Since it's 110 F outside, kitties are handling the guns briefly dressed - when trying to sunbathe in Sharm es-Sheik or similar
"enclave for infidels"
, they'll need to have their firearms ready to use.
Knowing the locals and their (in)famous
"religion of peace"
, where women accused of harlotry are stoned to death and tourists can't feel safe, the cat-ladies exercise with firearms commonly found in the Middle East - as you can see, those are different variants of Kalashnikov rifle, from left:
- Delilah is wielding AKM;
- Sonja - AK47
- Penelope - RPK
- Mona - AK74
- Cleo - AKSU-74
- Miss Kitty - same AK47 like Sonja.
The latter was quite troublesome to introduce - after resizing Kitty, she needed some sharpening up before posting.
Those nasty-looking white figures behind the kitties are paper Bolsheviks (drawn in 2012) - targets Pussycats use at their shooting range. I could modify them a bit to resemble jihadists, but someone once said that Islam and communism are nothing but two sides of one coin. Besides, those red-infantrymen effigies are fine for basic marksman training with visible weak points. Especially since Sonja and Cleo will need some time to master their firearms.
Pussycats (Penny, Mona and Delilah) are intentionally dressed in wz.93 patterned beach suits - they got material for those from their males Stan and Ian. The rest of Feline Bikini Brigade is wearing leopard prints.
I would like to thank my pen friend from UK for checking quotes of the cat-ladies. :)
Miss Kitty, Mona and Penelope Pussycat belong to PAWS Inc.
Delilah belongs to Warner Bros
Sonja and Cleo belong to George Gately.