How to Impress a Southern Lass
How to Impress a Southern Lass
How to Impress a Southern Lass
by
TeeJay87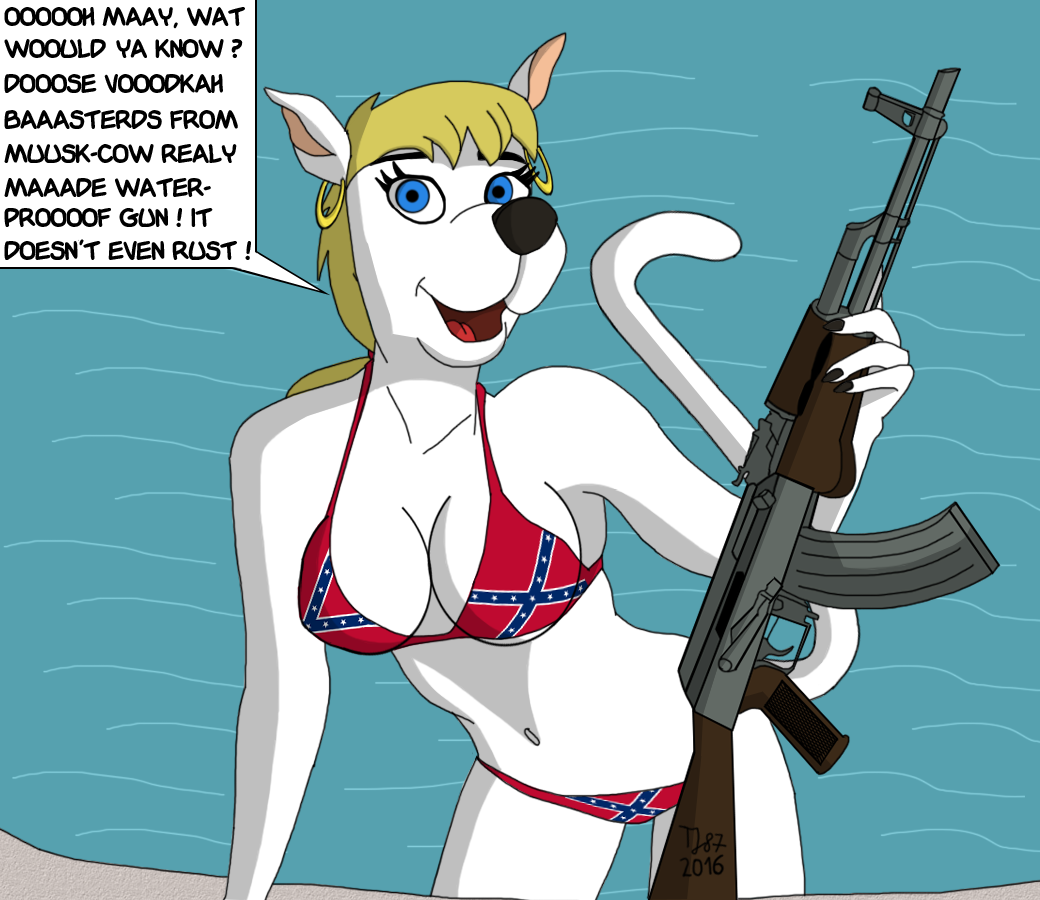 Description
Out of all the characters I've been drawing since 2007, Scooby Dee hasn't been appearing in pictures as frequently as her feline colleagues do, though I like her as much as Penelope Pussycat or Delilah. This year I've drawn her with Mona
http://www.fanart-central.net/pictures/user/TeeJay87/848454/Lil-Ol-Pollution
and with Doltie
http://www.fanart-central.net/pictures/user/TeeJay87/849169/Dolt-on-ism-Southern-Fried-Dolt
, so it's about time Edith Doo (guess that would be her official name in identity card or passport) got her own portrait.
As you can see, I allowed myself to modify her design a bit - in
"The Scooby Doo Show"
she looks like this
https://67.media.tumblr.com/520b9aecf81f75ff7f2c60e1ca63ba8a/tumblr_nlj2zed3wn1u25kiio1_1280.jpg
(left part of the photo). Changes include:
- humanoid body, similar to the Pussycats and their friends;
- blonde hair, just like Penny, Mona, Delilah or Callie have;
- tong and mouth colors same like Pussycats' ;
- irises in eyes;
- round earrings and thicker eyeliner (another features Dee adapted from the Pussycats);
- black soft claws, like real-life dogs have;
- underlined Southern accent of American English (
diiirectly frooom lil' ol Georgia !
). According to evidence obtained from my American pen friends' testimonies and the book
"Fort Bragg"
by Ed Ruggero, people living in the former CSA tend to stress accent on vowels in spoken language, just like Dee is doing in my picture.
I've intentionally picked for her swimsuit with Confederate States of America flag - both from the same reason Dee is speaking in Dixie slang and because due to her canine species, she's not looking convincing in leopard print bikini (
"Oooh may, ah feel like muh lil ol' kittie frens !"
). I could've dressed her in one of those US armed forces camouflage patterns swimsuits or allied ones, but those wouldn't make such variety.
Scoob's Dixie cousin is bathing in a pool around Tybee Island, GA (her homeland)
https://tybeeisland.com/
; most probably it's part of her family manor near Savannah.
Scooby Dee belongs to Hanna Barbera
General Info
Comments
18
Media
Digital drawing or painting
Time Taken
3 weeks
Reference
Haven't found