Vassily, What Have You Done ?!
Vassily, What Have You Done ?!
Vassily, What Have You Done ?!
by
TeeJay87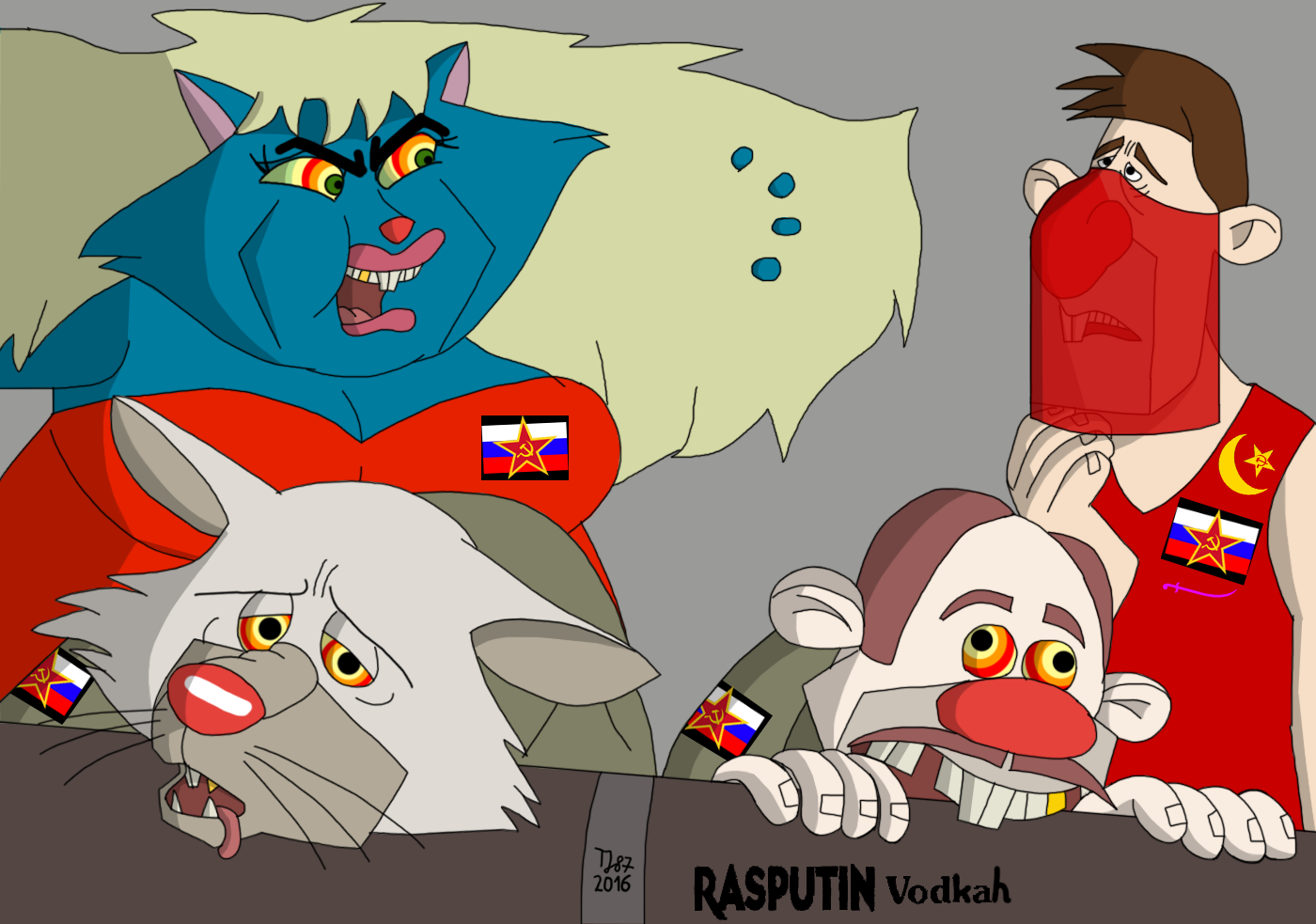 Description
Silly Vassily Imbetsyliev has never been popular inside his communist brethren, mainly due to his dress code identifying him as
"gomik"
(offensive term for "homosexual" in Russian) and worshiping Trotsky instead of Stalin, which labeled him as communist heretic. But things have gone worse, when Vassily converted himself to Islam with a little help of renegade imam from Chechnya, who was hiding in Moscovian underground. According to the freshly-converted neophyte,
"Islam was supposed to deepen his LGBT-communist ego making it more edgy."
Whatever it means.
The next day, Vassily Effendi decided to impress his colleagues from Russian Communist Party while testing new batch of Rasputin Vodka. Needles to say, entry of the queer Moslem caused easy-to-predict reactions inside one of the most xenophobic and homophobic nations of the world – Volodya Paskudnikov and Dimitryi Averellevych Dolt-on-Istov got such nervous breakdown they immediately lost power to taste hooch of the working class, while Olga Salotchkinaya became so enraged, that she started tearing her hairdo apart in anger. Partially due to her inbred Russian hatred of Muslims and LGBT, partially because she envied Vassily having more fit body.
Imbetsyliev was pinned down with slurs spewed by his two commanders (Dolt and Vowa) and battalion commissar (Olga) , revolving around:
- his betrayal of Great-Rus imperialism,
- his dress code considered by 99% of Russians as lewd and incest;
- his new religion being apparent threat to state atheism;
- last but not least, threats of sending him to GULAG in Siberia for really long time.
Vassily had plenty of luck, that he managed to escape from the vodka distillery safe and sound. Nobody knows, how did he succeed, but one thing is for sure: his comrades won't appreciate him anymore. Traitors in Russia are known to end up really badly in Butyrki KGB prison in Moscow...
-------------------------------------------------------------------------
Completed version of
http://www.fanart-central.net/pictures/user/TeeJay87/851832/Lazy-Working-Class-raw-sketch
with Vassily and Olga added. In short - Vassily has just converted into Islam, which is affecting badly his comrades from the Russian Communist Party. Imbetsyliev can easily be recognized as Muslim after details of his outfit:
- harem veil matching his red dress;
- crescent moon of the Bukharan Soviet Socialist Republic above Vassily's Russian flag - used to represent Russian Muslim;
- purple Zulfiqar sword symbol beneath the Russian flag - which is symbol of gay Muslims all around the world.
This picture is supposed to be satire against Russian hatred aimed at Muslims and homosexuals.
All the depicted commu-nuts belong to me.
General Info
Comments
12
Media
Digital drawing or painting
Time Taken
Haven't checked
Reference