Jihad against Copyrights
Jihad against Copyrights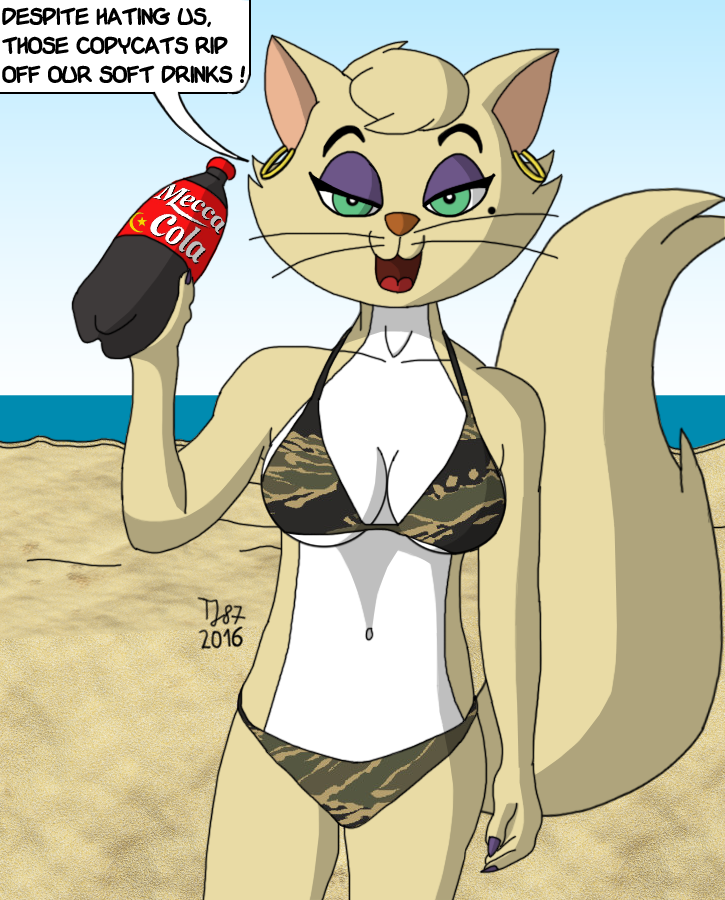 Description
Delilah is presenting one of many proofs for Middle-Eastern hypocrisy - Palestinian-developed Coca-Cola rip-off named after Muslim top-notch holy place
https://en.wikipedia.org/wiki/Mecca-Cola
. You may have noticed she has similar detailed eyes like Penelope
http://www.fanart-central.net/pictures/user/TeeJay87/852413/Pistol-Penny-2016
Economical rivalry and fair competition have been essential parts of properly functioning capitalism since 17th Century and this mechanism hasn't changed much during 400 years of development, even despite crazy leftists claim the opposite. Thanks to such competition, you have possibility to choose from variety of products available in markets, especially soft drinks - from commonly available Coca-Cola and Pepsi to regional products, such as our Polish Polo-Cockta and similar brands.
Not that I'd approve unlimited consumption of those beverages - apart from being rich in calories, combination of carbon acid (H2CO3) and Phosphoric Acid V (H3PO4) isn't healthy for everyday drinking.
Still, occasionally those fizzy drinks may be helpful, if you need caffeine boost without drinking coffee or while having digestion issues. I've also heard about military enthusiasts, who use Coca-cola to clean rust from bayonets, steel helmets or similar items, though I'm not fully convinced about efficiency of that method.
Back to the main topic - it's understandable that
"peaceful"
Muslims from the Middle East feel need of competing with worldwide brands, despite their leftist-oriented oriental nature.
But merging religion with free-market sounds strange at best, if not simply disgusting - as if spiritual beliefs had market value and possibility to be sold.
We had such incidents in Christian world:
- Jesus Christ in New Testament has expressed His disappointment with people opening bazaar in front of the temple;
- trading indulgences was the main reason Lutheran Protestants breached from Roman Catholic Church
https://en.wikipedia.org/wiki/Ninety-five_Theses
If someone tried to sell beverages like
"Jesus Cola"
,
"Vatican Cola"
,
"Wittenberg Cola"
,
"Nazareth Cola", "Jasna-Góra-Cola"
or something like that, such brands wouldn't find customers - leftists would view such as "expansion of religion they oppose" and normal people would be simply disgusted.
Apparently, those moral rules don't apply to fans of Jihad, since they admit to have
Mecca Cola
(named after Muslim sanctuary city) and
Zam-Zam Cola
(after holy well from Quran).

Now think: since Muslims count their religion into money, especially US Dollars
(currency of the country they call
"The Great Satan"
, which somehow doesn't forbid them appreciating "great satanic money")
, why don't they announce financial price of having their society converting to less-violent and less-self-contradicting religion like Christianity ?
Delilah belongs to Warner Bros
Mecca Cola belongs (apparently) to Mecca Cola World Company