Ultra-Pussycat
Ultra-Pussycat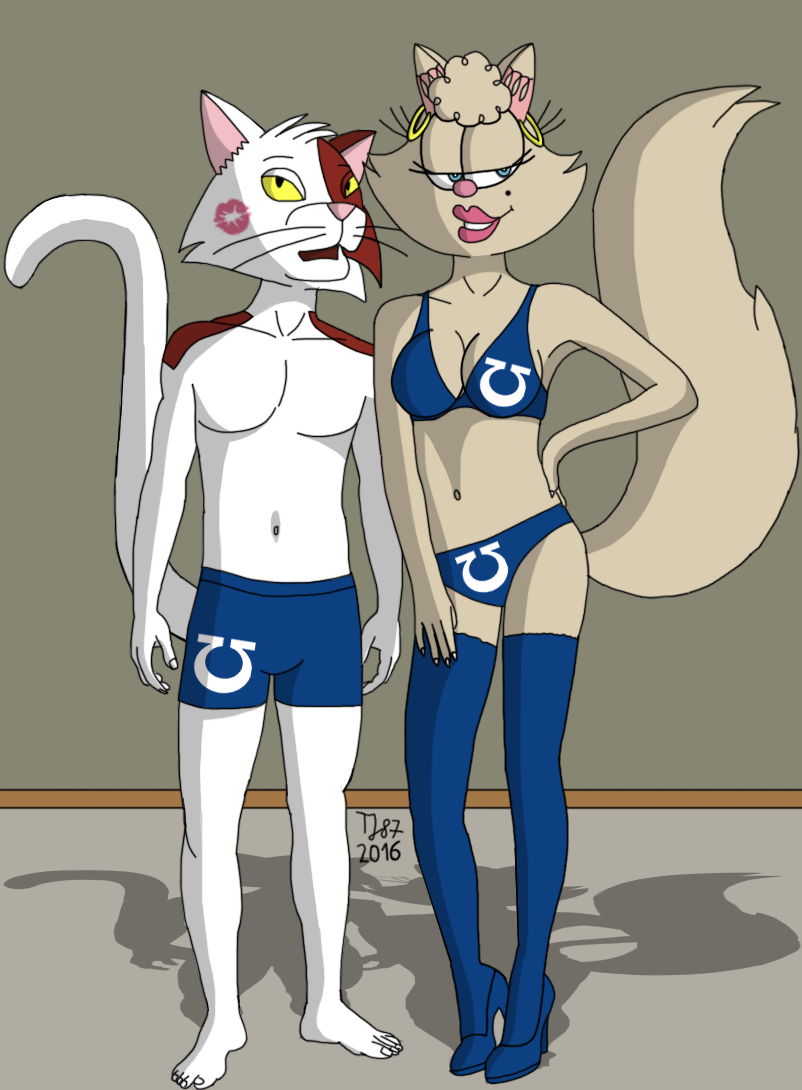 Description
Penny, Mona and Stan have recently been watching a movie about Ultramarines
https://en.wikipedia.org/wiki/Ultramarines:_A_Warhammer_40,000_Movie
with John Hurt, Terence Stamp, Sean Pertwee and Adam Harwey. Couple of days later, when they were browsing Ultramarines merchandise, Penny found lingerie with the unit emblem, so they're trying it on.
Stan asked Penny about the idea of merchandising on such (quite ridiculous) level and he got a smooch in return. Mona is probably testing her Ultramarine female set with different hairdos, thus she's not present in the picture.
Apart from drawing the couple, this work is supposed to be satire about the common trend inside companies like Games Workshop, when they do their best in reaching customers, often in hilarious ways. If you google "Ultramarines merchandise", you should see available on sale space marine figurines, books and games, but also T-shirts with Ultramarine emblems, dices for tabletop games
https://www.games-workshop.com/resources/catalog/product/600x620/99220101007_UltramarineDice03.jpg
and even coffee mugs. I've heard about certain other companies going that far, that they issue lingerie promoting their products.
Unlike leftists, I'm not trying to claim that such mechanisms deserve being purged - without those, capitalism wouldn't be functioning. Just I view such exaggerated promo materials as a way of draining people's wallets; pretty much like PAWS Inc. demands quite much for
Garfield and Friends
animation cels
https://garfieldcollectibles.com/
.
Though you have to admit, Ultramarine lingerie is underlining Penny's eye colour.
Penelope Pussycat belongs to PAWS Inc.
Ultramarines belong to Games Workshop
Stanisław Zaleski belongs to me.