The Pussy Cat Band (raw sketch)
The Pussy Cat Band (raw sketch)
The Pussy Cat Band (raw sketch)
by
TeeJay87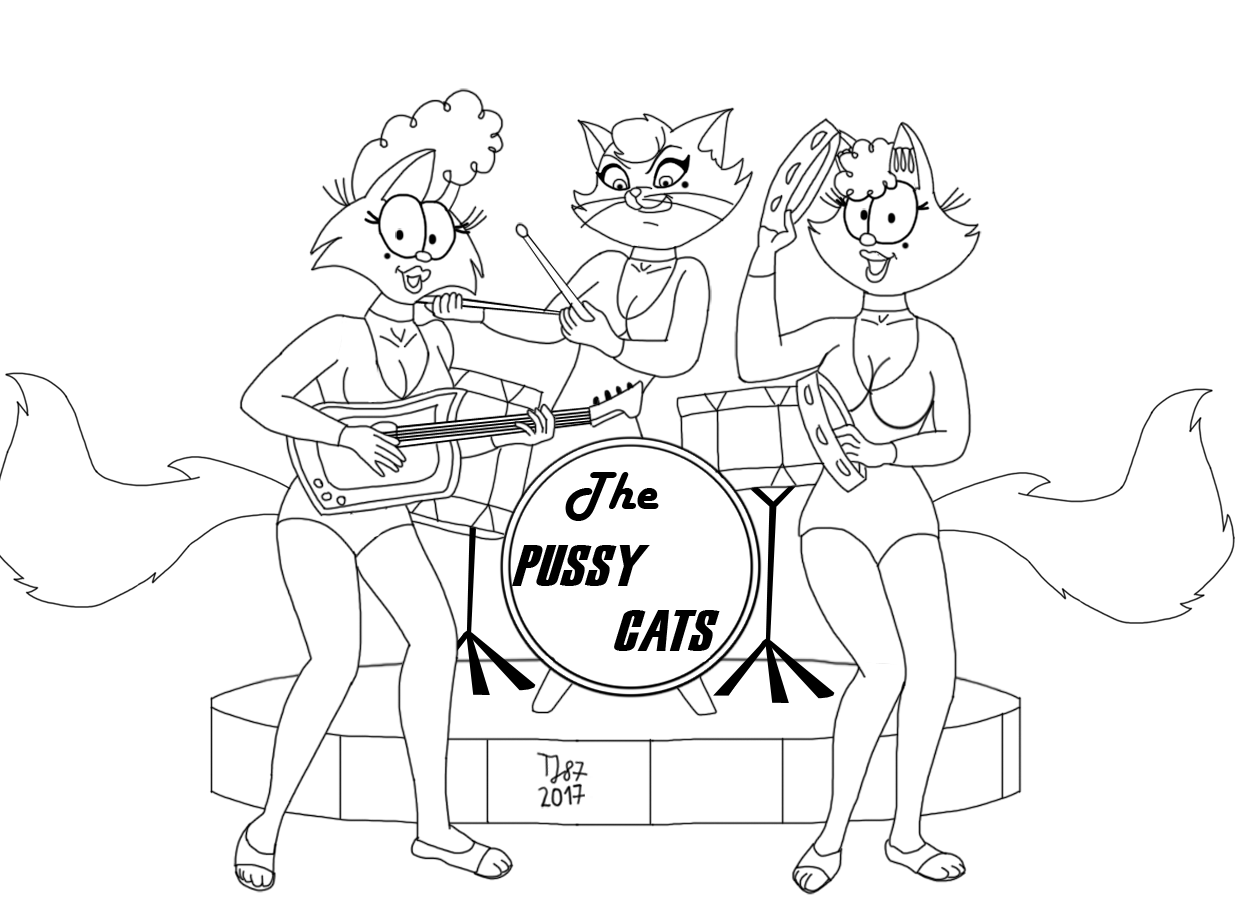 Description
One of my favourite Hanna-Barbera cartoons has been
Josie and the Pussycats
https://en.wikipedia.org/wiki/Josie_and_the_Pussycats_(TV_series)
- basically
Scooby Doo
spin-off with different characters. Despite apparently cliched, the cartoon has its charm.
Some time ago I had an idea to merge those Hanna-Barbera Pussycats with real cat-women from different series, with Penny and Mona being natural choice. Originally the third Pussy Cat was supposed to be Arlene, Miss Kitty or another female from Garfield cartoons, until I discovered
Krypto the Superdog
in 2013 with Delilah considered as better candidate.
After necessary research and developing drawing skills, I've managed to draw the Pussycats Band in the way I was imagining. From left:
- Mona as Josie (guitarist) ;
- Delilah as Melody (drummer) ;
- Penelope as Valerie (tambourine player).
Since all those kitties share the same family name Pussycat (Penny and Mona are twins, while Delilah is supposed to be their paternal cousin), I don't find any of them eligible to be promoted at cost of the rest, thus their band is called simply "The Pussy Cats".
Coloured version is here
http://www.fanart-central.net/pictures/user/TeeJay87/853160/Josie-and-Real-Pussycats
Mona and Penelope Pussycat belong to PAWS Inc.
Delilah belongs to Warner Bros.
Josie and the Pussycats belong to Dan de Carlo and Hanna-Barbera.
General Info
Comments
4
Media
Ink or markers
Time Taken
See description
Reference
http://vignette4.wikia.nocookie.net/cartoonnetwork