Space Mouser: Belt of Vengeance
Space Mouser: Belt of Vengeance
Space Mouser: Belt of Vengeance
by
TeeJay87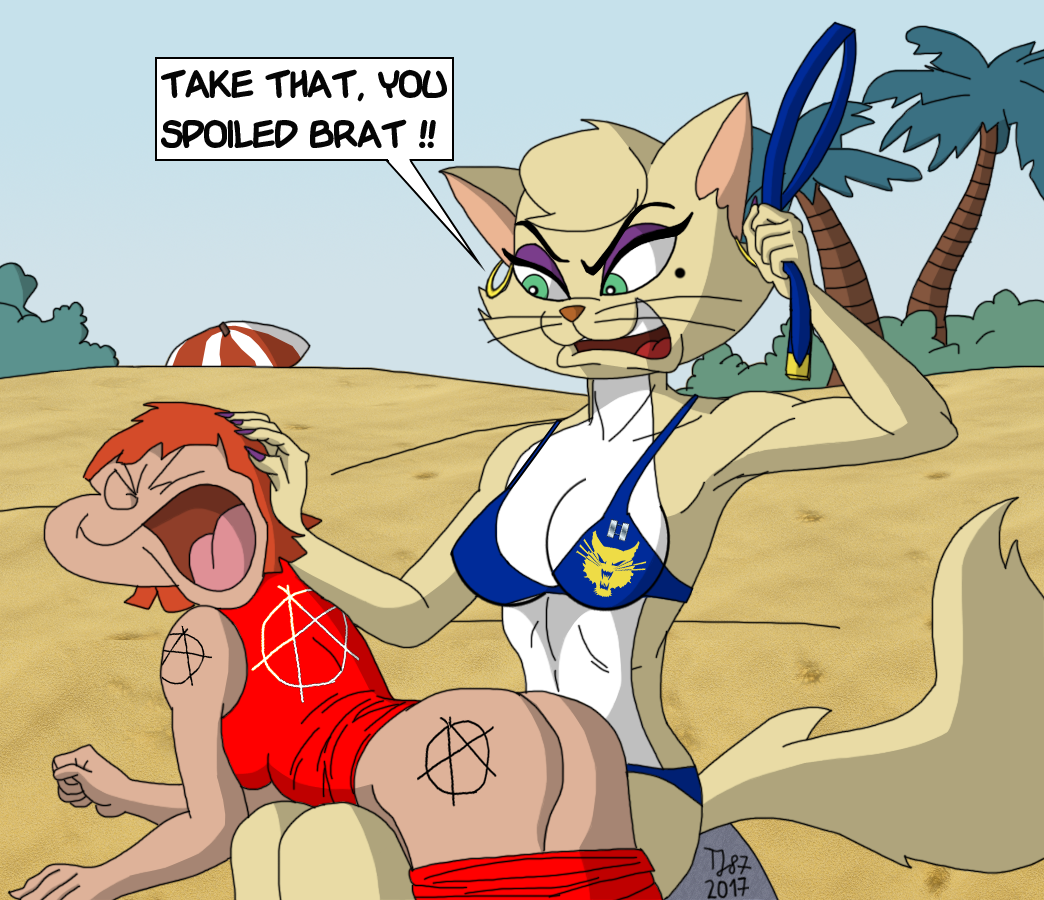 Description
"Despite being primarily used to secure trousers, solid leather or reinforced canvas belt is an awesome mean of disciplining naughty kids, who reject softer means of persuasion." (From Codex Astartes Felidae)

-------------------------------------------------------------------------------------------------------------------------------

In every chapter, Space Marine Captains are the bravest and mightiest warriors, inspiring all under their command. The same applies to Lions of Saint Marcus, more commonly known as "Space Mousers" - their officers, both commissioned and non-commissioned, are expected to inspire lower-ranked troops regardless of the situation. Doesn't matter if it's the battle field, company ship, barracks or off-duty; even at home or on vacation, Space Mouser officers are expected to be examples to follow for their brethren.
Delilah isn't an exception - even during holidays, she remains vigilant to deal with enemies of humanity. One example is above - Elmyra Duff had her mind corrupted by leftist ideology, which only deepened her need for tormenting animals. Hopefully, Chaos also made Elmyra even more addled than she was before - addled enough that Babs and Buster Bunny managed to avoid new dose of torment and lure their persecutor directly at Space Mousers resting at the nearby beach. The result is quite predictable - it's not the first time the hunter became the prey...
This picture was developed from this sketch
http://www.fanart-central.net/pictures/user/TeeJay87/853298/Space-Mouser-Belt-of-Vengeance-raw-sk...
; apart from adding colors, details and background, I've decided to replace its title with something more matching.
As you can see, Space Mousers wear their rank and chapter insignia even on swimwear - two silver bars pinned on top indicate captain rank, below is officer version of chapter emblem.
Personally, I believe all those leftists roaming websites and harassing people in real life deserve healthy amount of spanking with solid belts. Half of Europe is already "gaining profit" from allowing their kids doing anything immoral they want anytime they want:
- Muslims are terrorizing Germany, France, Benelux and Scandinavian countries;
- while Sweden and Finland are close of being invaded by Putin's henchmen, just because fools from Helsinki and Stockholm simply allowed their progeny trading their morality for vodka.
If those people will keep vegetating in their leftist dreams, some day they might wake up surrounded by Jihadists or Russian soldiers aiming firearms at them. I doubt anyone sane would like to experience such life in shackles, though people argue about Scandinavians and their mental health condition.
General Info
Comments
6
Media
Digital drawing or painting
Time Taken
Haven't checked
Reference