Sindri, Daughter of Behemoth
Sindri, Daughter of Behemoth
Sindri, Daughter of Behemoth
by
TeeJay87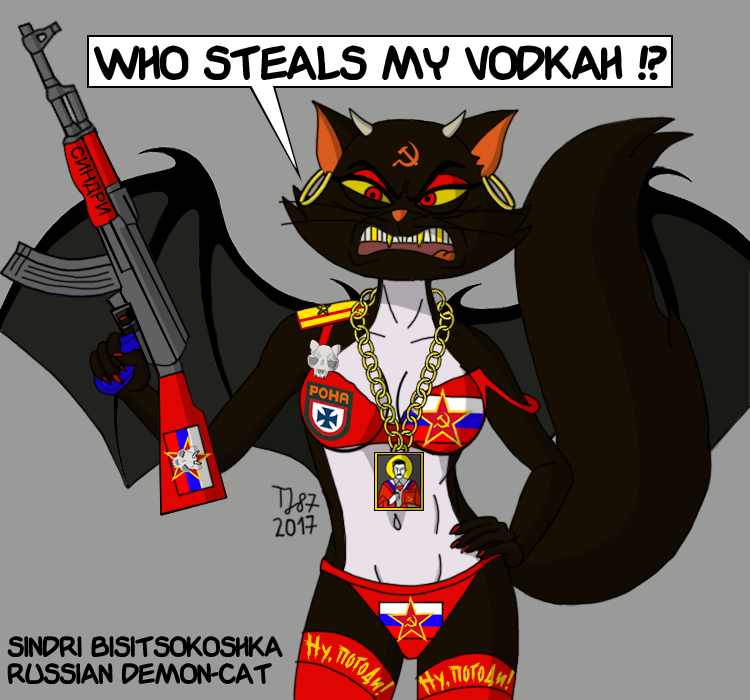 Description
While in high school, we had
"Master and Margarita"
by Mikhail Bulgakov as mandatory book to read - despite being written by Russian communist, that novel is pretty good actually, since it mocks Russian state atheism performed by Bolshlocks and their lack of common sense.
One of characters appearing in that novel is Behemoth the demon cat
https://en.wikipedia.org/wiki/Behemoth_(Master_and_Margarita)
, who has penchant for vodka and firearms. Russian sculptor in Kharkov depicted Behemoth this way
https://upload.wikimedia.org/wikipedia/ru/4/41/%D0%91%D1%83%D0%BB%D0%B3%D0%B0%D0%BA%D0%BE%D0%B2%D...
; now imagine, how would his progeny look like.
Sindri Bisitso-koshka ("Fiend cat" in Russian) is supposed to be Behemoth's biological daughter; actually one of his eight daughters the Bulgakovian feline demon-proletarian managed to procreate with unknown females. Just like her father (and her sisters as well), Sindri is fond of alcohol and firearms - so fond, that she imbued AK47 rifle with vile powers and that stealing her booze drives her crazy. She inherited black fur colour after her daddy; horns, bat wings and long fangs are revealing her extra-planar nature as well.

You may have noticed that Sindri's design is based on Delilah, just with modifications - I've intentionally given our Moscovian feline demonette such facial features to make her dark and twisted mirror of Del. Other daughters of Behemoth also resemble certain feline heroines - to underline the scheme, that the devil and leftists never make anything original themselves, they just rip off good things into their manner. Sindri is just one of many model products of such fiendish socialism.

Befouled AK differs from standard rifles with some details - apart from wooden parts replaced by red material from the bottom of the hell, the profaned gun deals more damage due to fiendish might enchanting it. That patch Sindri is wearing on her shoulder bra part is Russian army major rank insignia, identifying our hellcat as commissioned officer of the National Commissariat of Fiendish Affairs. Winston Churchill did admit, that socialism works in hell
http://media-cache-ak0.pinimg.com/736x/34/75/07/34750721d21706efe919bdbd68005920.jpg
, and I'm sure they must have proper apparatus to maintain it there.
This picture was based on my older work
http://www.fanart-central.net/pictures/user/TeeJay87/850038/Catfight-2-Kalashnikov-Kawaii
. Sindri's name was taken from
Dawn of War
http://warhammer40k.wikia.com/wiki/Sindri_Myr
- despite not sounding Russian, it should suit any villain regardless of nationality.
Sindri the Fiend-Cat belongs to me.
General Info
Comments
9
Media
Digital drawing or painting
Time Taken
Haven't checked
Reference
See description