Shelter in Allah's Ram
Shelter in Allah's Ram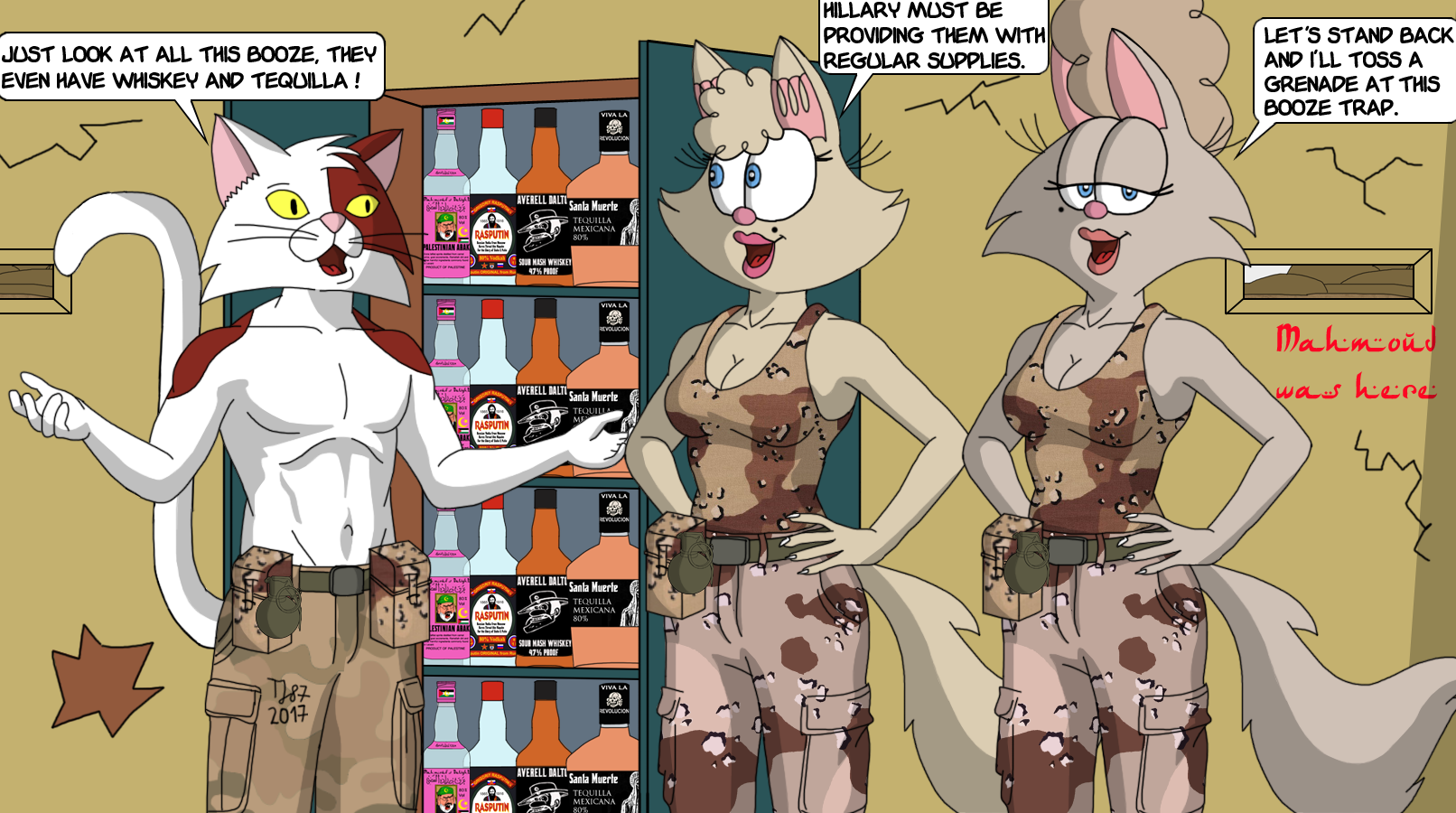 Description
During their trip to Middle East, Stan and the Pussycats found a bunker located somewhere in the so-called "Palestinian state territory". With little help of Israeli forces, they cleared the fortification from its previous inhabitants using firearms and explosives. Local fans of Jihad were fiercely defending one small room, which turned out to be housing alcohol bottles under thick walls.
As you can see, members of Hamas aren't finicky about ethanol  - apart from own
Mahmoud's Delight
, they also enjoy foreign alcohol:
- Rasputin Vodka (from Russia),
- Averell Dalton sour mash whiskey (beverage of Democrat Party)
- and Santa Muerte Mexican tequila (another fine example of leftist alcoholism).
Their caliph Mammoth Al-Bastard gets regular supplies from the Clintons and their henchmen from the Democrat party, as Penny is stating. Knowing the "peaceful and tolerant people from Gaza Zone", the booze shelter is most probably secured with booby traps - one M67 grenade thrown by Mona from safe distance will neutralize the threat for sure. Besides, who (except the leftists themselves) would want to drink liquors from suspicious sources anyway ?
The cats are dressed for very warm climate - Stan is wearing Polish Army wz.93 desert camouflage trousers while the Pussycats' fatigues are DBDU US Army trousers with matching tank tops. Nylon trouser belts with aluminum buckles are supplementing the outfits. Each member of the team is carrying universal pouch for M14/M16 rifle - I know real-life US Army pouches of that type are khaki green, but since we're living in 21st Century, nobody said those can't be manufactured. Our feline heroes aren't shown wielding firearms - one of their friends from IDF (not seen in the picture) is holding them.
WIP
http://www.fanart-central.net/pictures/user/TeeJay87/853555/Shirtless-Stan-WIP
had different placement of characters - had to modify the composition a bit after two of my pen friends complained about Stan's hand gesture. Now it should be more audience-friendly with Stan's left hand covered by Penny's arm.
Wall of the Hamas bunker hadn't been damaged by combat - those cracks on surface are supposed to indicate poor engineering skills of Mammoth's henchmen. The gun ports are oriented towards hilly desert, since this room hadn't been primarily designed as battle position.
Mona and Penelope Pussycat belongs to PAWS Inc.
Stan(isław) Zaleski belongs to me.
General Info
Comments
11
Media
Digital drawing or painting
Time Taken
Haven't checked
Reference