Space Dolt: Combat Exaltation
Space Dolt: Combat Exaltation
Space Dolt: Combat Exaltation
by
TeeJay87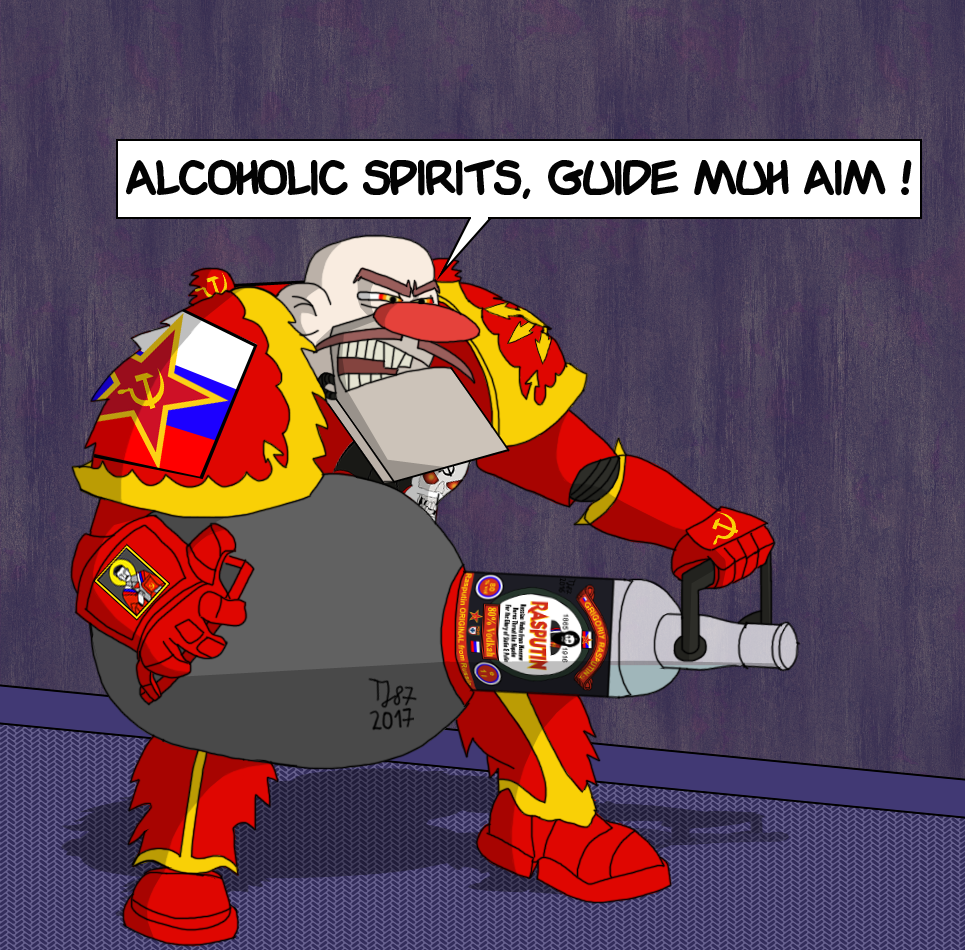 Description
Vodkamarines are known to use weapons commonly considered as "ridiculous" even by most of the remaining Chaos Legions. Their iconic weapons are Vodkah Guns - energy firearms operated by ionized alcohol. Despite the name stresses the use of vodka, those means of spreading revolution work on any alcohol stronger than wine.

Vodkah Guns come in three basic variants:
- Vodkah-Pistols - handguns used by Vodkamarine officers and Nu-Pogodi! Berserkers;
- standard Vodkah Guns - rifle-sized weapons requiring two hands to use;
- Heavy Vodkah Guns - as the name suggests, those are enlarged Vodkah Guns designated to bombard "bourgeoisie capitalists" in the name of leftist ideas nobody understands at all.


Interstellar Bolsheviks easily developed the first two variants of the weapon but creating heavy version went less smoothly. A couple of constructors provided their projects and they all were accepted for production.


Combat efficiency of those hooch guns is suspect at best since so far none of the Vodkamarines managed to kill the enemy using those weapons as designed. Few Imperial Guards died of laughter when they saw Vodkah Guns in actions, but those are rare cases.

----------------------------------------------------------------------------
The completed version of
http://www.fanart-central.net/pictures/user/TeeJay87/853585/Space-Dolt-with-Heavy-Vodkah-Gun-raw-...
- Doltie is wielding the first model of Heavy Vodkah Gun - basically a rubber bladder attached to a vodka bottle and filled with ionized liquor. The hooch is launched by pressing the bladder.
We all know such weapons can only kill the opponents by laughter, but you have to admit - those are very socialist.
Dolt-on-Istov belongs to me
Warhammer 40K belongs to Games Workshop
General Info
Comments
9
Media
Digital drawing or painting
Time Taken
3 days
Reference