Space Mouser: Return to Sender
Space Mouser: Return to Sender
Space Mouser: Return to Sender
by
TeeJay87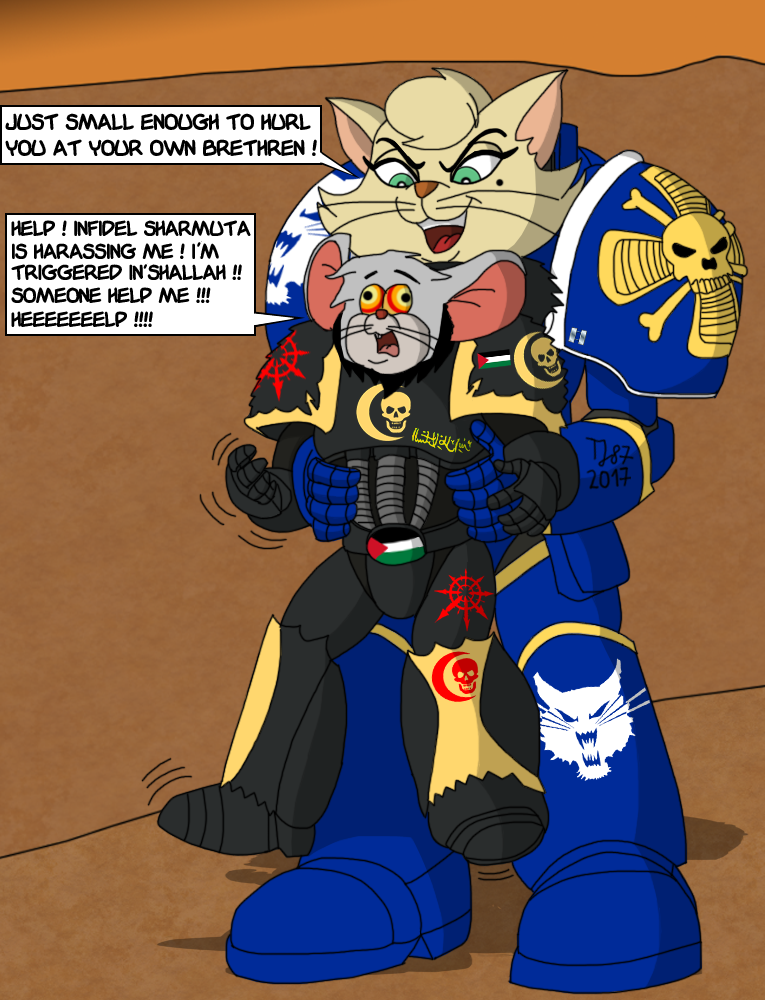 Description
Jihad Sultans are another chaos legion notoriously known in the Milky Way for their crimes against the mankind. Unlike Vodkamarines, Jihad Sultans weren't exiled from Earth as threat for humanity, but while being surrounded, they managed to steal prototype of huge spaceship and flee before the humanity would crush them. After fairly long voyage, Space Jihadists found a planet Kebabeera - far from Earth, which resembled the Great Nefud Desert landscape - parched sea of sands, unpleasantly hot temperature, annoying fauna and scarce flora, inhabited mostly by humanoid rats and mice. The rodents accepted Islam as their religion and soon joined ranks of Interstellar Palies as their foot soldiers.


Space Mujahideen wear black power armours without too many decorations, since Islam officially permits depicting human characters - their suits are normally adorned with modified Quranic crescent symbol, Palestinian flags, symbols of chaos and writings in Arabic, usually calls to bloody war with non-Muslims.
-----------------------------------------------------------------------------------------------------------------------

Completed version of
http://www.fanart-central.net/pictures/user/TeeJay87/853616/Canned-Prey-raw-sketch
in full colours and background - Delilah in Terminator armour (same as here
http://www.fanart-central.net/pictures/user/TeeJay87/850701/Space-Mouser-mild-version
) caught one of those Mouse-jahideens during assault on their home world Kebabeera.
She's about to use the space rodent as weapon against his terrorist brethren by hurling him as grenade - space Jihadists repeat suicide bombing tactics favoured by their ancestors dwelling the Earth and they even fill their power armours with explosives. Don't worry about our feline mighty heroine - in-built fuse in rodent's power armour failed to work (Kebabeera's dirt must have damaged the mechanism) and Delilah is carrying special fuses for Jihad Sultans armours manufactured by Lions of Saint Marcus.
I would like to thank my pen friend from Kentucky for Delilah's quote idea. :)
Delilah belongs to Warner Bros.
Warhammer 40K belongs to Games Workshop.
General Info
Comments
12
Media
Digital drawing or painting
Time Taken
4 days
Reference