Mrs. Pussycat
Mrs. Pussycat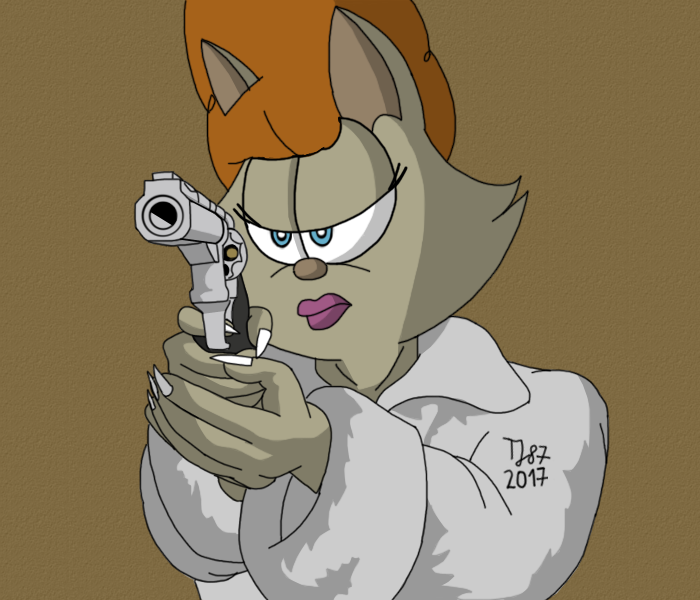 Description
Picture developed from
http://www.fanart-central.net/pictures/user/TeeJay87/853688/Mrs.-Pussycat-concept-sketch
and my concept for Penny's and Mona's mother, inspired by character from
The Third Penelope Episode http://garfield.wikia.com/wiki/Mrs._Pussycat .


Matron Pussycat retained her basic head shape, as well as her fur, hair and flesh colour. Differences include:
- reworked mouth (with lipstick colour borrowed from her daughter Penny in
The Garfield Musical
http://garfield.wikia.com/wiki/File:TGM297f.png
)
- the same eyes I draw Penelope and Mona - blue balls with black-and-white irises;
- ears she doesn't have in original
http://garfield.wikia.com/wiki/File:Vlcsnap-2014-10-16-14h01m26s7.png
, modeled after Mona's ears
http://garfield.wikia.com/wiki/File:LK043e.png
- last but not least, more fit body inspired by Mallory Archer.
Matriarch of the Pussycat family is wielding Colt Python - in my stories, she comes from old family of Texan gunslingers and cowboys, hopefully whose members have always stood on the side of right causes. This should explain, why are her two daughters Penny and Mona (canon and off-canon), son Al (I'm planning to draw him in the future, once I find out convincing design for him) and niece (Delilah) such crack-shots with firearms - parents are always the best natural teachers.
Mrs. Pussycat belongs to PAWS Inc.
PS. Matron Pussycat doesn't have first name in cartoon, but she might need such for my stories. If you have any reasonable suggestions, feel free to share those here.