Booze for the Weeaboos
Booze for the Weeaboos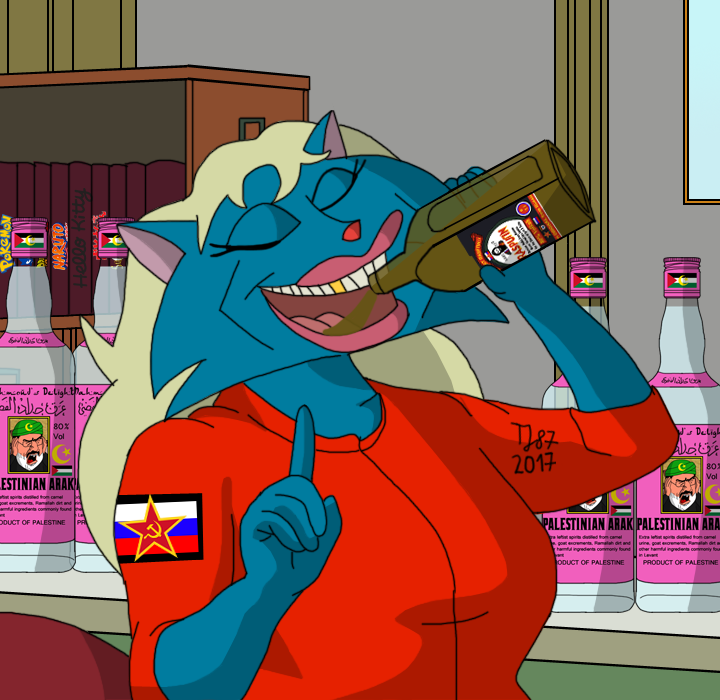 Description
Rasputin Distillery in Moscow has recently released couple of "brand new" liquors to supplement their staple 80% strong rotgut. One of the  beverages is "Caramel Rasputin" sold in rectangular bottles, similar to those Johnie Walker whiskey is bottled. The hooch contains potato ethanol (same like in regular Rasputin Vodkah) , methanol, glycerol, rocket fuel for S-300 PMU-1 ballistic missiles and huge amounts of caramel, giving the mixture brownish colour and consistency of a mud obtained from the puddle.

National Commissariat of Drunk Affairs in Moscow is advertising Caramel Rasputin as "beverage for mothers of the working class", mostly since additional ingredients weakened the spirit into 65% strength, noticeably less potent than regular 80%.
------------------------------------------------------------------------------------------------------------------------
Completed version of
http://www.fanart-central.net/pictures/user/TeeJay87/853960/Olga-drinking-raw-sketch
with background and in full colors. As you can see, Caramel Rasputin liquor has already won Olga's heart, throat and liver - our feline commissar is fond of sweet meals and beverages; candy with alcohol are her top-notch favorite consumables. Those Mahmoud Delight bottles have been obtained from "shop with yellow curtains" in Moscow (stores for licensed Russian Communist Party members), where they offer foreign goods.
The title of this picture refers to Olga's preferences in entertainment - apart from lies written by Marx, Engels, Lenin and Stalin, she only reads manga and watches anime, the only pictures approved by Kremlin. As you can see, she has plenty of those Japanese media, all are books with DVDs:
- Pokemon
- Sonic X
- Dragon Ball Z (Olga's third fave)
- Naruto
- Hello Kitty (Olga's first fave)
- Osomatsu-Kun
- Sailor Moon (Olga's second fave)
Of course Salotchkinaya doesn't watch Western animation ("filthy decadent capitalist bourgeoisie filth" as Kremlin propaganda teaches Moscowian knuckle-heads), especially from "Pindostan" (United States of America) and "Vistulan Land" (Poland).
I know it's silly, but that's how do 95% of Russians tend to behave online - they're basically haughty rabid fans of anime and manga, who consider themselves as Russian deities inside non-Russian mortals. Should you need proofs, bother first better Russian on dA or YT and try talking to that individual - unless you're a leftist and/or IJA apologist, I can guarantee you won't be able reasoning that individual.
About time those fans of Putin and Stalin limited alcohol consumption and opened themselves for more sophisticated means of entertainment instead of stuff they get from their rivals. As far as I remember, Japanese are maintaining claims against Russia for Sakhalin and Kuril Islands.
Olga Salotchkinaya belongs to me.
General Info
Comments
4
Media
Digital drawing or painting
Time Taken
2 days
Reference