Born in the USA 2017
Born in the USA 2017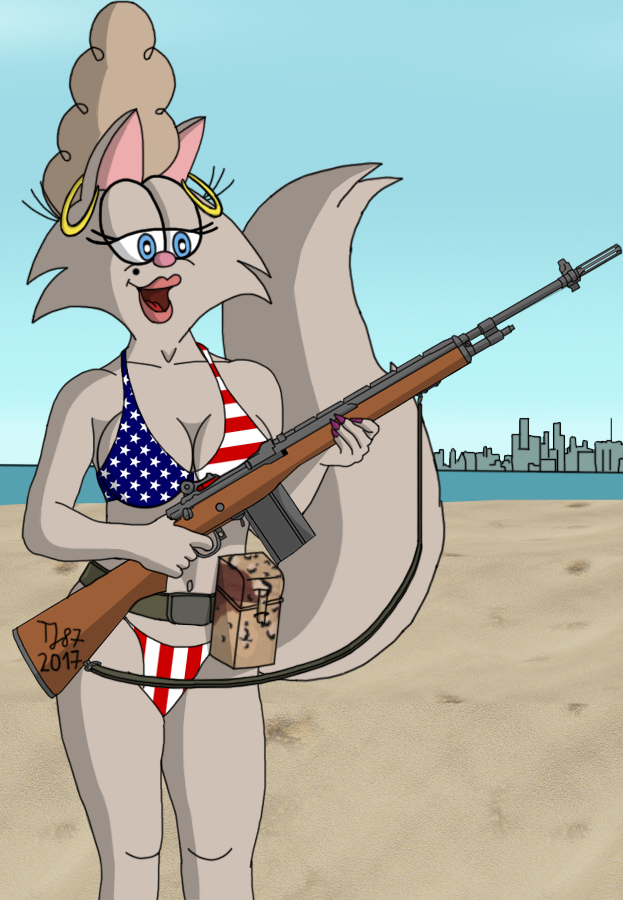 Description
"I had a brother at Khe Sahn

Fighting off the Viet Cong
They're still there, he's all gone..."

 ------------------------------------------------------------------------------------------------------
New picture of Mona in stars-and-stripes bikini posing in Corpus Christi beach wielding M14 rifle. That's her standard gear while going on vacation to California - 7,62mm NATO is more than enough to reason rabid leftists. Penelope and Delilah use similar equipment.
Modeled after this photograph
http://www.gunslot.com/files/gunslot/images/40958.jpg
- as you can see, original is holding Ruger Mini-14 carbine, basically smaller version of full-sized M14. The A-Team was using burst mode version of those, called AC-556F.
Fitting full-length M14 was a bit tricky, since it's much bigger than Ruger's compact gun - hopefully illustrations and photos from
Armies of the Vietnam War 1962-75
and similar Osprey Publishing books make excellent reference. Especially when backed up by testimonies of pen friends from the States, who are familiar with M14 rifle.
Title of this picture refers to song by Bruce Springsteen
https://www.youtube.com/watch?v=lZD4ezDbbu4
, as well as mentioned above part of its lyrics.
I'm planning to put Mona with Delilah
http://www.fanart-central.net/pictures/user/TeeJay87/852029/Delilah-with-M16k-WIP
into one picture, since both are wielding weapons made in their home country.
Mona belongs to PAWS Inc.
General Info
Comments
6
Media
Digital drawing or painting
Time Taken
Haven't checked
Reference
http://www.gunslot.com/files/gunslot/images/40958.