Pleistocene Pussycat 2017: Domina Savannae
Pleistocene Pussycat 2017: Domina Savannae
Pleistocene Pussycat 2017: Domina Savannae
by
TeeJay87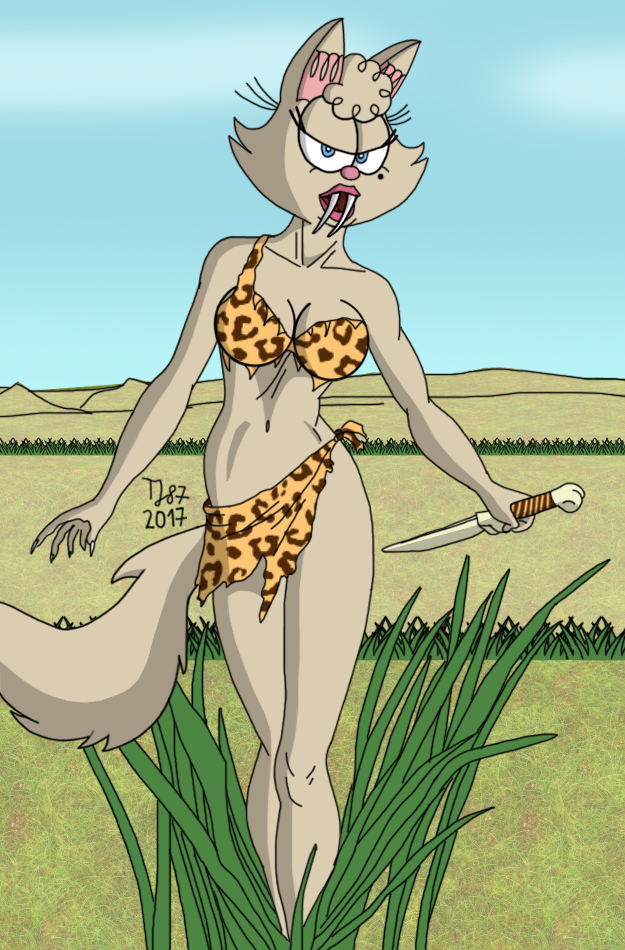 Description
While sharing the story about the Lake Stupid, Garfield forgot to tell about the part of the cave cats tribe, which seceded from their brethren after the failed attempt of reaching Lasagna-Tree Island.

One of the matrons was so disappointed by clumsiness of the tribesmen, that she led her family and similarly disappointed friends to another place, where they didn't have to watch their obese brethren living on bad quality food. Those saber-tooth felines differed from their kin with more fit bodies, gained by physical exercises and better nutrition habits. Soon they started calling themselves "Felidans" as distinction from their abandoned cousins.

While the mainstream cave cats from lake tribe retained bulky body shapes and crude appearances, Felidans managed to develop as society - having opened for trade with Neanderthal and Cro-Magnon humans, they learned farming and agriculture, making their once-staple-meat diet more balanced.  
-------------------------------------------------------------------------------------------------------------------------
Remake of my 2014 work
http://www.fanart-central.net/pictures/user/TeeJay87/839958/Pleistocene-Pussycat
developed from this sketch
http://www.fanart-central.net/pictures/user/TeeJay87/854227/Pleistocene-Pussycat-2017-raw-sketch
- Penelope-like prehistoric cat prowling around savanna with bone knife.
Work inspired by:
- The Flintstones
- this movie
https://en.wikipedia.org/wiki/One_Million_Years_B.C
.
- Garfield from
The Legend of the Lake
episode
http://garfield.wikia.com/wiki/File:TLoTL023c.png
- Arlene from the same episode
http://garfield.wikia.com/wiki/File:TLoTL020b.png
You may have noticed that Prehistoric Penny has more fit body than Arlene from the same period - when you live outdoors and live from the prey you hunt, it's rather obvious that you have to stay healthy. The fangs took me two attempts to draw as they look - I wanted to avoid them look like walrus fangs, while those in sketch made prehistoric Penny look a bit like vampire. Now they should resemble fangs Smilodon cats had.
Latin half of the picture's title means "lady/mistress of the savanna".
Penelope Pussycat belongs to PAWS Inc.