A Gift from the Fiery Princess
A Gift from the Fiery Princess
A Gift from the Fiery Princess
by
TeeJay87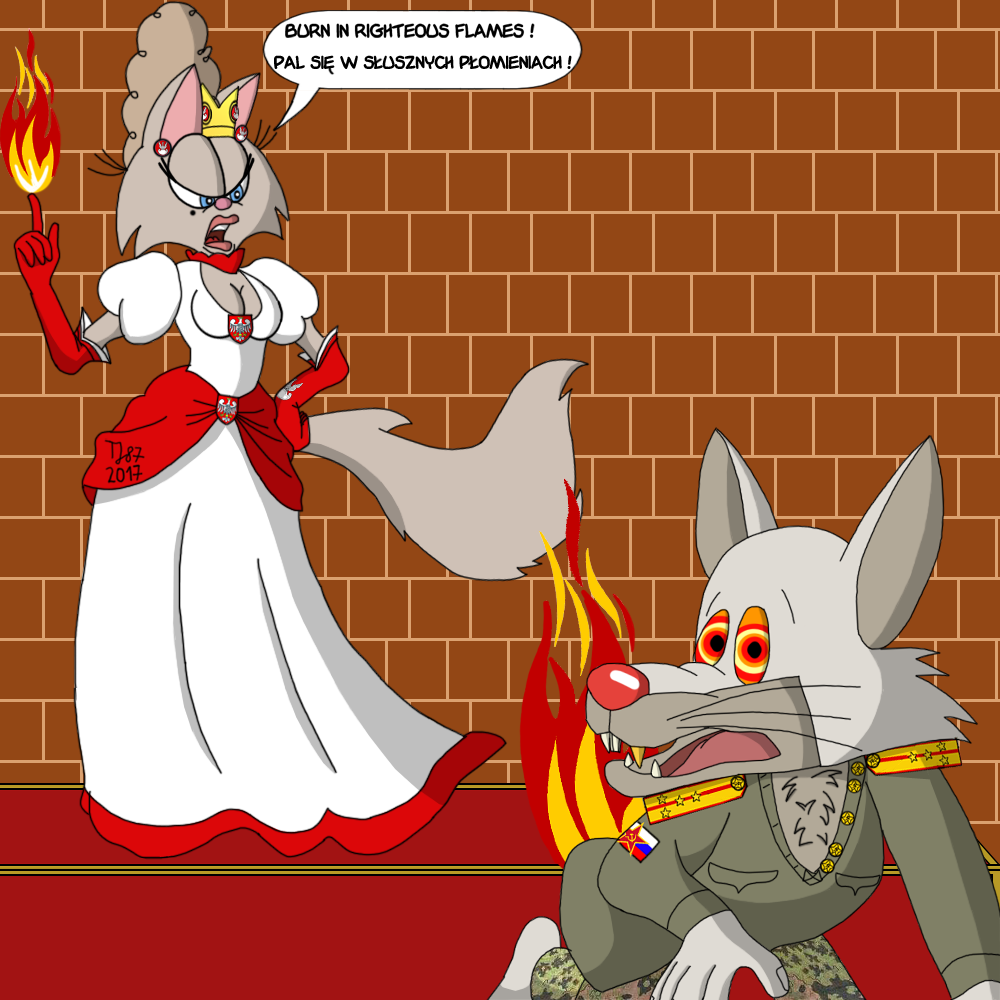 Description
Completed version of
http://www.fanart-central.net/pictures/user/TeeJay87/854351/Fire-Peach-Mona-raw-sketch
- Mona drawn as Princess Peach from
Super Mario World 3D
after touching fire flower and Vova Paskudnikov experiencing her rage on his own skin. Based on official game promo
https://s-media-cache-ak0.pinimg.com/originals/f0/c3/e8/f0c3e856c890b26f329ac07f37a5998b.png
As you can see, I allowed myself to modify the outfit - since original dress worn by Fire Peach resembles my national flag (white and red), it wasn't difficult to adjust couple of details. Changes include:
- red gloves with white-and-red outlines instead of white ones; you may have noticed our 2nd Republic national emblem (from 1918-45 period) sewn on knuckles;
- Peach's brooch replaced by seal used by our kings from Piast dynasty (1025-1079, 1295-1296 and 1320-1370), as well as Louis d'Anjou, his daughter Hedwig and kings from Jagiellon dynasty (1384-1572), repeated on waist sash;
- original jewelry replaced with red round rings with 2nd Republic emblem supplemented by crown with same gems;
- last but not least, cleavage Peach doesn't wear in original Nintendo artworks, but Mario fans tend to draw it.
Paskudnikov (wearing M1943
gymnastierka
shirt with captain rank insignia to SS
Platanemuster
cammo pants) is doing one of few things he's actually good at - having attempted to assault our feline princess (Russian-communist-atheist savior-vivre), canine vanguard of the leftist revolution had his fiery sentiments fueled from Mona - small fireball aimed directly at Vova's butt; so he's experiencing morale loss.
You could ask, how is that possible Vova got promotion to Russian army captain's rank with such poor combat and social skills he's performing - I'll just confirm that Russians maintain tradition of buying ranks by drinking strong alcohol with their superiors. This custom dates back to Romanov dynasty (17th Century) and was never even attempted to be weeded out by Soviets and Putin's henchmen.
Last but not least, Mona is saying the same quote in English and Polish.
Mona belongs to PAWS Inc.
Princess Peach belongs to Nintendo
Vladimir "Vova" Paskudnikov belongs to me.