Hellcat Couple
Hellcat Couple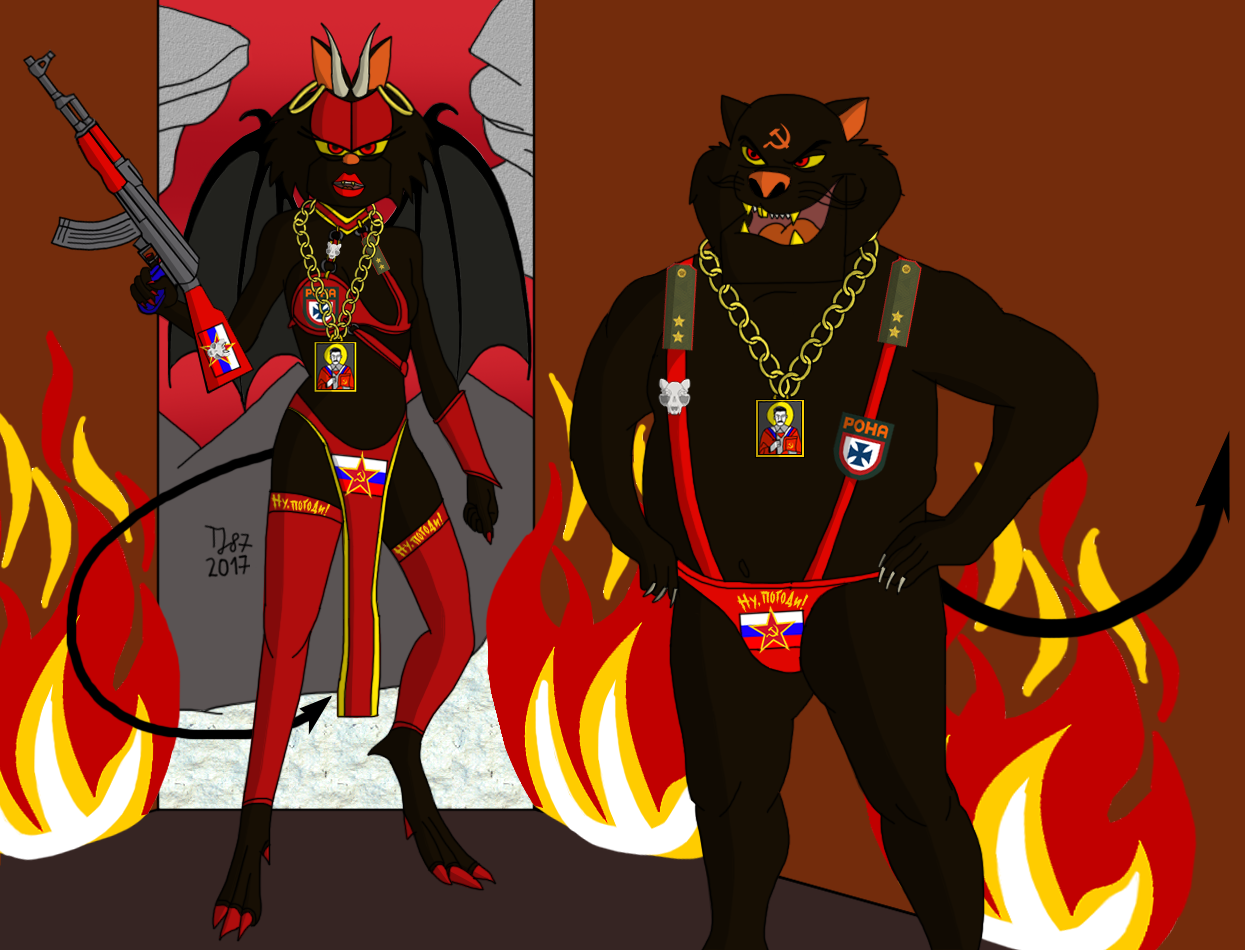 Description
Some time ago I've posted a picture inspired by
"Master and Margarita"
by Mikhail Bulgakov
http://www.fanart-central.net/pictures/user/TeeJay87/853462/Sindri-Daughter-of-Behemoth
; it was about time Sindri's ancestry received explanation.
Those two Russian hellcats from my picture above are of course Sindri's biological parents (as well as her sisters') :
- male is my vision of Behemoth the demon cat
https://en.wikipedia.org/wiki/Behemoth_(Master_and_Margarita)
, modeled after Fatso from Disney's Chip & Dale cartoons;
- that feline demonette with profaned AK47 (modeled after Lola from
"Beach Blanket Bonzo" http://garfield.wikia.com/wiki/Lola
) gave Behemoth their fiendish progeny. I named her Damballa (name taken from
Chaos Gate
game files), because it sounds matching for vile creature.
Both hellcats are wearing intentionally brief outfits with characteristic heraldry, including Russian communist flags, RONA emblems, amulets with Stalin as Orthodox Saint, cat skulls and Soviet Army lieutenant general rank insignia identifying them as
Komdiv
(
Kommissar Divizyi
= "divisional commissar" = lieutenant general in NKVD/KGB/FSB troops). They gained such high position for all the evil they have been performing as Chekists from Infernal Commissariat of Inner Affairs (fiendish equivalent of NKVD). In short - Behemoth and Dumb Alla are devoted leftists from the bottom of the hell.
That realm behind our demonic commissars is Frozen Abyss - the part of hell Woland's fiendish henchmen call "home" and where Russian communists and neo-Nazis go after their life on Earth comes to an end. Basically it can be described as mixture of Dantean Inferno with Siberian landscape, filled with hostile environment and where fire only burns inside artificial constructions. The hellcats are standing inside one of such buildings - lack of inner details is supposed to indicate, that the construction has been completed very recently, thus it's lacking equipment.
Behemoth belongs to successors of Mikhail Bulgakov
Damballa/Dumb Alla belongs to me.
General Info
Comments
6
Media
Digital drawing or painting
Time Taken
Haven't checked
Reference
See description