Textile Intifada
Textile Intifada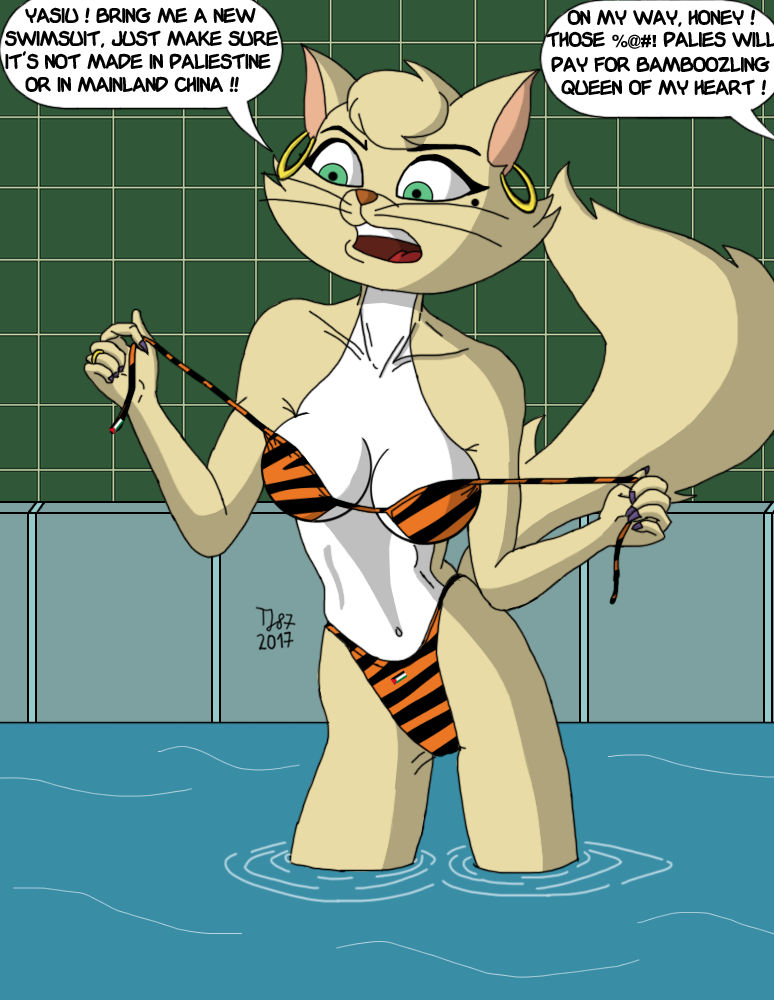 Description
Delilah and Ian found new manufacturer of swimwear - "Bul-Bul Effendi's Halal Swimsuits", claiming to be superior than sets offered by H&M. Despite being happy owner of H&M loyalty card, Delilah was curious about quality of the products from Allah's Ram, so she bought "Tiger Sultana" two-piece bikini for herself and "Tiger Sultan" shorts for Ian. Both outfits cost without shipping 1000 Paliestinian Dinars, roughly 10 USD.

Although not expecting too much from those, our couple tested those in local pool hall, where Penny, Mona and Stan were also spending leisure time. Before entering the pool, the cats wore their fancy briefs under the Halal Swimsuits, which turned out wise idea - after maybe five minutes of swimming, "fine quality products from Allah's Ram" started breaking - bottoms tore down on rear parts, while straps on Tiger Sultana top got loose. Hopefully Delilah had spare swimsuit prepared as emergency, naturally it was H&M one.

---------------------------------------------------------------------------------------------------------------------------
Picture inspired by propaganda Carlos Latuff has been spreading against H&M https://www.indymedia.org.uk/images/2010/03/448307.jpg and
https://bdshm.files.wordpress.com/2010/04/latuffboycotthm2fullcolour.gif
- "because H&M is evil Zionist capitalist company murdering innocent Paliestinians". Only leftists without frontal lobe believe in such lies, and Carlos is model example of such addled mind.
The moral of the story is simple: better trust reliable manufacturers than believe in lies spread by advocates of leftist terrorism. Instead of boycotting reliable clothing companies, we should boycott leftists and Islamo-fascists.
Flagged mature content due to suggestive scene.
Delilah belongs to Warner Bros.
General Info
Comments
2
Media
Digital drawing or painting
Time Taken
Haven't checked
Reference